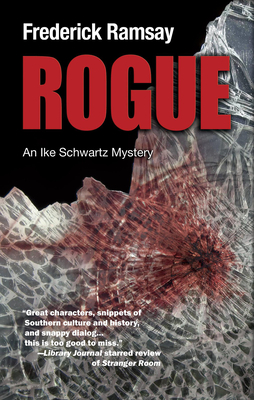 Rogue: An Ike Schwartz Mystery (Hardcover)
An Ike Schwartz Mystery
Poisoned Pen Press, 9781590589021, 261pp.
Publication Date: July 5, 2011
Description
Ruth Harris, Sherriff Ike Schwartz's fiancee, is involved in a near fatal automobile accident. But Ike is convinced the crash was rigged. Even though he is embroiled in a close election, has no jurisdiction over the investigation, and can find no support in the usual law enforcement community, he places himself on leave and goes rogue to investigate and seek the person or persons responsible for putting Ruth in a coma.

His efforts attract help from unexpected and irregular sources. Old friends in the covert community step up, covert help from his loyal staff combine to help. It is a journey which takes him first to State's Rights organizations, then to zealots and dissident academics before it finally ends at home in Picketsville.

Along the way Charlie Garland connects with Eden Saint Claire, his father manipulates the re-election campaign, and the folks at the Crossroads Diner cheer him on.
About the Author
Dr. Frederick Ramsay was born in Baltimore, MD, graduated from Washington and Lee University and received his doctorate from the University of Illinois. After a stint in the Army, he joined the University of Maryland, School of Medicine faculty. In 1971 was ordained an Episcopal priest and served in several parishes until retirement. He currently lives in Surprise with his wife Susan. He writes the Ike Schwartz Mysteries, A series set in Botswana, and has two stand alones."
Praise For Rogue: An Ike Schwartz Mystery…
"The seventh Ike Schwartz outing...combines high-tech detection with routine sleuthing to reach a surprising and satisfying conclusion." —Booklist
"Fred Ramsay has the knack for combining serious crime, folksy dialogue, and extremely likable characters. Give the series a try and you will want to spend more time in Picketsville." —Steve Shadow Schwartz, steveshadowschwartz.com
"Sure-footed plotting and easy banter make Ramsay's sixth Sheriff Ike mystery a brisk, entertaining read" —Kirkus Reviews on Eye of the Virgin
"The sixth in this series has Ramsay's trademark folksy touch, a well-rounded cast of characters, and brisk and believable dialogue, this time with an international scope. Ike Schwartz's outings just keep getting better."  —Booklist of Eye of the Virgin
"Mixing down-home police work, CIA maneuvering, and FBI finagling in this timely tale of terrorism, Ramsay comes up aces with his sixth outing"  —Library Journal of Eye of the Virgin

Advertisement