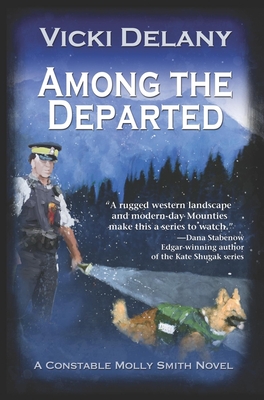 Among the Departed: A Constable Molly Smith Mystery (Hardcover)
A Constable Molly Smith Mystery
Poisoned Pen Press, 9781590589243, 277pp.
Publication Date: May 3, 2011
Description
Fifteen years ago a young girl named Moonlight Smith went to her best friend Nicky Nowak's house for a sleepover. Moonlight joined the family for breakfast the following morning and was then picked up by her mother. Shortly after, Mr. Nowak went for a walk. He was never seen again.
Autumn has arrived on the mountains above Trafalgar, B.C. and Constable Molly "Moonlight" Smith is cuddled by the fireplace with Adam Tocek of the RCMP when Tocek and his dog Norman are called to a wilderness camping ground to join the search for a little boy who sneaked away from his family looking for bears. The child is found, dirty, terrified, weeping, but unharmed. Then the inquisitive Norman digs up something else: human bones.
The ID isn't positive, but it is enough to have Sergeant John Winters of the Trafalgar City Police re-open the Brian Nowak investigation. He finds a family shattered beyond recognition. Mrs. Nowak is an empty shell of a woman, dressed in pajamas, never leaving the house. Her son Kyle haunts the streets of Trafalgar at night and spends his days creating beautiful, but highly troubling, art. Nicky Nowak lives in Vancouver and has grown up to be gorgeous, charming, and elegant. Yet behind that facade lies a woman whose heart has closed so tightly against human relationships that she comes to Trafalgar trailing in her wake a terrifying threat to another innocent family....
About the Author
Having taken early retirement from her job as a systems analyst in the high-pressure financial world, Vicki Delany is settling down to the rural life in bucolic Prince Edward County, Ontario where she rarely wears a watch. "Among the Departed" is the fifth in her traditional village mystery series featuring Constable Smith, Sergeant Winters and the town in the shadow of the glacier Trafalgar, British Columbia. Please visit www.vickidelany.com.
Praise For Among the Departed: A Constable Molly Smith Mystery…
"The reading of the unabridged book by Carrington MacDuffie is great: she brings out the humor and has plenty of energy."—Metapsychology Online Reviews
"By using western Canada as her setting, Delany gives us a breath­taking vista, in which she places her deceptively minimalist plots. Her exceptional ability to create characters, both realistic and sometimes creepy, makes this another terrific addition to her outstanding body of work." —Library Journal starred review
"Delany...invigorates the cozy genre with an unsparing look at love in all its variations, including coming to terms with it the second time around." —Kirkus Reviews
"Compelling, thought provoking, and heart-rending...[Among the Departed] scrutinizes the nature of perception, misconception, prejudice, rejection, and love; it reminds us that acceptance, in all areas of life and love, is paramount." —The Compulsive Reader
"The beautiful setting nicely frames this village police procedural, which boasts well-delineated characters and combines police investigation with the life of cops on the beat." —Booklist

 "Delany has a good grasp of what is required in a police procedural. Her characters are believable... The plot works very well."—Reviewing the Evidence

"For any fan of police and crime novels, this is a very satisfying read."—Portland Book Review
Advertisement