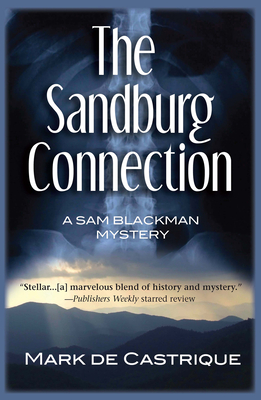 The Sandburg Connection: A Sam Blackman Mystery (Hardcover)
A Sam Blackman Mystery
Poisoned Pen Press, 9781590589410, 290pp.
Publication Date: October 4, 2011
* Individual store prices may vary.
or
Not Currently Available for Direct Purchase
Description
A simple assignment for private investigator Sam Blackman and his partner Nakayla Robertson: follow Professor Janice Wainwright, who's suing a surgeon for malpractice, and catch her in activities that undercut her claim.When Wainwright visits Connemara, Carl Sandburg's home in Flat Rock, N.C., and climbs the arduous trail to the top of Glassy Mountain, Sam believes he has the evidence needed to expose her until he finds the woman semi-conscious and bleeding. Her final words: It's the Sandburg verses. The Sandburg verses. As the first person to discover the dying woman, Sam becomes the prime suspect. When an autopsy reveals painkillers in her blood and solid proof of the surgeon's errors, Sam is left with the haunting questions: why did this suffering woman attempt to climb the mountain? Did someone cause her death?A break-in at the Wainwright farmhouse and the theft of Sandburg volumes convince Sam someone is seeking information worth killing for. But what did Pulitzer-Prize-winner Sandburg have in his literary collection that has inspired multiple murders? And who will be targeted next? This is the third installment in the Sam Blackman series.
About the Author
Mark de Castrique is the author of the Sam Blackman series and Buryin Barry series, both set in the mountains of North Carolina where he lives with his wife Linda.He has also written two mysteries for young adults.www.markdecastrique.com"
Praise For The Sandburg Connection: A Sam Blackman Mystery…
"The only thing wrong with the novel is that you immediately want to read the other Sam Blackman novels, Blackman's Coffin (2008) and The Fitzgerald Rose (2010)."—Rapid River Magazine
"...a remarkable conclusion to this well-crafted entry in a most entertaining series."—Mysterious Reviews
"This was a great book that was well-worth the read."—Fresh Fiction
"This is a well written tale that will please readers well beyond the borders of Appalachia."—Mystery Maven Blog
"This is a great story unfolding methodically, and interesting to readers who enjoy southern history with a twist of treasure hunting to boot...A great mystery it is!"—BookShelf Review
"History, drama, suspense. In The Sandburg Connection, the dots are well connected. This is a mystery to dig into. " —Bookfetish
"I recommend The Sandburg Connection if you're looking for a lighthearted mystery with a variety of unique characters and a literary slant. I'll likely check out some of the other Sam Blackman novels in the future."—My Book Retreat
"A missing folk song, a buried treasure from Civil War days, and a pregnant goat all play a part in this marvelous blend of history and mystery seasoned with information about Carl Sandburg's life and times on his Asheville farm and the National Park Service's current operations there. This strong regional mystery should resonate with a much wider audience." —Publishers Weekly starred review
"Folk songs, Sandburg, and Civil War history—what a winning combination! Easy banter and humor with a free-spirited ensemble cast make this mystery a pleasant escape. Recommend it to Margaret Maron readers and fans of couples investigators, such as David Handler's Mitry and Berger." —Library Journal

"Sam's third case benefits greatly from the chemistry of its two sleuths and the author's—make that the narrator's—clean, accessible style."—Kirkus Review of The Sandburg Connection
"It is the humor and Nick-and-Nora banter between Sam and Nakayla that lifts Mr. de Castrique's series above the purely regional, carrying us along to an unusual but believable conclusion. By that time, we've also been educated about Carl Sandburg, American folk music and a little known corner of Confederate history, and wish we could stay with Sam and Nakayla as they head off for some well-earned barbecue." —New York Journal of Books
"Known for his effortless storytelling, de Castrique once again delivers a compelling tale blending fact and fiction, this one involving racial tension, the aftermath of war, and the authentication of manuscripts." —Library Journal starred review of Blackman's Coffin
"A wealth of historical detail, an exciting treasure hunt and credible characters distinguish this fresh, adventurous read." —Publishers Weekly starred review of Blackman's Coffin
"The warmth of Sam and Nakayla's relationship and Sam's challenged but determined heart make for a great read." —
Kirkus Reviews
of
Fitzgerald Ruse
Advertisement