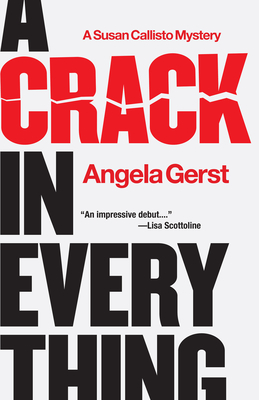 A Crack in Everything: A Susan Callisto Mystery (Hardcover)
A Susan Callisto Mystery
Poisoned Pen Press, 9781590589441, 258pp.
Publication Date: September 6, 2011
* Individual store prices may vary.
or
Not Currently Available for Direct Purchase
Description
Politics, money, love . . . what could go wrong? Susan Callisto is pushing thirty and taking stock. Before she traded financial security at a Boston law firm for sandals and jeans in Waltham, she specialized in real estate law. Now she has reinvented herself as a political consultant for ordinary people seeking low-level office. Her income may be dicey, but Susan loves her new life until her sometime boyfriend, Detective Lieutenant Michael Benedict, dumps her without a goodbye. Not one to mope, Susan uses humor and perpetual motion to push away the pain. Susan's new world is one where politics can turn deadly and even love may not survive. So when local high roller Charles Renfrow offers her a huge retainer to advise his political campaign, Susan is wary. Why would a scientist stalking the human genome want to be mayor of a small Massachusetts town? Finding the answer takes Susan through a maze of toxic secrets including those floating around Renfrow's biotech company. On her way to confront him, Susan instead finds the body of his beautiful assistant. Assigned to the case, Michael reenters Susan's life.
When Michael's suspicions settle on Roddie Baird, yet another, and favorite, of Susan's clients, Susan elbows her way into the investigation. She hopes to prove Michael wrong. As she probes and lays her own life on the line Susan uncovers a crack in everything .
About the Author
After law school, Angela Gerst moved from New York to Massachusetts where over the years she worked for literary journals, as a "Boston Globe" correspondent, as press secretary for the French Library, and most recently for "Newton Magazine." Her interest in local issues involved her in organizing and running Newton campaigns for alderman and mayor, and from thence to creating the fictional world of Susan Callisto, political consultant. She and her husband live near Boston.

"
Praise For A Crack in Everything: A Susan Callisto Mystery…
"Highly recommended for suspense fans who like a smile with their mysteries."—Blogcritic
"...A Crack in Everything is cleverly devised and constructed, if a bit too busy at times, and readers will be rewarded when everything, as it were, comes together in the end."—Mysterious Reviews
"A Crack in Everything is an entertaining and well-written mystery novel by first-time author Angela Gerst...Mystery fans will enjoy this book and want to read more from the author."—Portland Book Review
"Susan Callisto is a funny, strong protagonist worthy of a long series of books." —Mystery Scene
"What an amazing audiobook! ...I couldn't turn this one off and finished it in little over a day."—Audiobook Fans

"Gerst gets good mileage out of her political roots, but it's her finely honed plot that seals the deal. Here's hoping she runs for another term." —Kirkus Reviews starred review
"...The plot unfolds like a set of Russian nesting dolls with each solution hiding yet another surprising development and each testing Callisto's resolve and resilience" —Publishers Weekly
"Gerst does a fine job with plot maneuvers, bringing in an exciting twist at the end. A promising new series." —Library Journal
"Welcome to Angela Gerst, who makes an impressive debut with A Crack in Everything. Her heroine, Susan Callisto, gets more than she bargained for when her client's beautiful young assistant turns up dead, and Callisto follows the trail like a pro, as it leads to the killer—and to a man she once loved." —Lisa Scottoline, author of Save Me
"A street-smart, Italian-flavored, Boston-area debut mystery novel: Gerst knows her turf, and renders it entertainingly." —John Barth, member of the American Academy of Arts and Letters and author of Every Third Thought: A Novel in Five Seasons
"Murder stalks the polls in A Crack in Everything, a dazzling debut by a sure-handed and gifted writer who takes you on a wild ride through Massachusetts towns peopled by characters who leap to life on the page. With an abundance of wit and humor and intelligence through the roof, Angela Gerst introduces the freshest, most dynamic accidental sleuth to come along in years--Susan Callisto, political consultant. Susan's candidates will do anything to win. There's poetry in Susan's soul, voter surveys in her hobo bag and a Swiss Army corkscrew in her pocket. She needs all three to eke out a perilous survival in this page-turner that readers will want to slow down and savor." —Mary E. Mitchell, PEN award-winning author of Starting Out Sideways and Love in Complete Sentences
"As Susan Callisto, observer extraordinaire, led me through the unexpected twists and turns of this fresh, riveting mystery, I fell into step with her droll outlook, her savvy love of food, cars, plants and of most of the people in her life. By the end of the book, Susan was my new best friend and I can't wait to hang out with her again." —Sally Ryder Brady, author of Instar and A Box of Darkness
"Overall, Angela Gerst's debut, and the first in the Susan Callisto Mystery series, is a solid freshman effort. With enough interesting characters to lend just the right amount of complexity to the story, Gerst weaves a tale of political ambitions, intrigue and power struggles that casts a guilty pall over just about everyone."—BookFetish
"Angela Gerst's debut makes a promising start to a series with a smart, tough lawyer with a sassy wit and substantial courage. Gerst's own experience as a lawyer shines through without being overbearing, instead bringing entertaining anecdotes to the table." —Suite 101's Thriller/Mystery review
"A CRACK IN EVERYTHING is Angela Gerst's debut Susan Callisto mystery. It is an amusing, action-filled story with headstrong characters who ensure that Susan Callisto never has a dull moment. This story is quite entertaining and a snappy setup for a series."—Fresh Fiction
"Fast-paced with a strong protagonist and solid support cast, fans will enjoy the political consultant learning a "You Can't Take It With You" lesson about money, power and clients."—Harriet Klausner Reviews
"It is a purposefully convoluted plot, but Angela Gerst writes with assured and fluid prose. Susan Callisto is a funny, strong protagonist worthy of a long series of books."—Debbi Mack, Mystery Scene
Advertisement