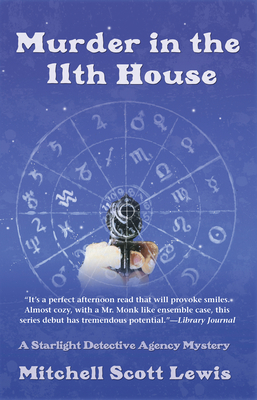 Murder in the 11th House (Hardcover)
Poisoned Pen Press, 9781590589502, 250pp.
Publication Date: September 6, 2011
Description
Astrological detective David Lowell must use his astrologer's charts and knowledge to solve the murder of a state judge in a New York City parking garage. Joined by his daughter, Melinda, a young defense attorney who believes the person arrested is innocent; his hacker sidekick Mort; patient assistant Sarah; and bodyguard Andy, Lowell races against time to aid Johnny Colbert, a mouthy bartender accused of the crime. Birth charts and street smarts help Lowell trace the murder back to a surprising source.

About the Author
Mitchell Scott Lewis has been a practicing astrologerand teacherin New York City for more than twenty years. For a dozen years, he worked on the Mercantile Exchange as an astro-economist, where he authored a newsletter, Trading By Starlight. He has appeared on "20/20" and been quoted in Barron s, the New York Post and other publications. In his newsletters, radio and TV appearances, and lectures at the Princeton Club from 1999-2009, he successfully predicted a year in advance the rise of oil prices, the exact top of the housing market, the deterioration of the mortgage business, the current recession, and the 2008 stock market crash, all of which happened within days of his predictions. His clientele include leading financiers, health professionals, show business figures and people from all walks of life. He has been invited to lecture at the next United Astrology Conference in 2011, the largest assembly of astrologers in America. Mitchell is also an accomplished jazz pianist and singer-songwriter with a nationally-charted single. His father, to whom this book is dedicated, was Irwin Lewis, novelist and author of dozens of radio and early TV shows, including "Suspense Theatre.""
Praise For Murder in the 11th House…
"Murder in the 11th House is the perfect read for mystery/thriller fans, those that enjoyed the television series, 'Monk', and anyone that likes a mystic twist in their novels."—Associated Content Reviews
"There are no weaknesses in this book. Mystery lovers will not only enjoy the story, but will come away with an understanding of how astrology impacts people and events."—TCM Reviews

"Murder in the 11th House really is one of those books that is difficult to put down. It is a page-turner that will have readers marveling at what important part astrology can play in one's behavior and in his or her life… After enjoying this engaging story, readers will certainly look forward to the detective's next adventure."—Bella Online's Mystery Book Review
"The author has created an ensemble of quirky, loveable characters that would be a pleasure to read about even if they weren't solving crimes." —Over My Dead Body.com
"This first book in the Starlight Detective Agency series is a good one and shows that astrology can be used in many ways."—Bestsellers World
"Lewis was spot on creating cool characters for his novel. He promises more by crafting different personalities that mesh and conflict in and out of the the detective agency. I can't wait to see his next book."—The GenReview
"A detective who makes deductions using astrology and an author with an insider's take on New York City make for a clever, fun and engaging debut mystery." —Neil McMahon, author of Lone Creek and L.A. Mental
"There are more things in heaven and earth than are dreamt of by the police, as Lewis' unconventional astrologer-detective demonstrates in this deftly plotted tale of murder, intrigue, and the corrosive influence of money.  A mix of interesting characters and insightful social observations bode well for the future of the Starlight Detective Agency." —Jeanne Matthews, author of Bet Your Bones
"It's a perfect afternoon read that will provoke smiles. Almost cozy, with a Mr. Monk like ensemble case, this series debut has tremendous potential" —Library Journal

"Lewis's winning debut, the first in a new series, introduces New York City detective David Lowell, a highly intelligent, intuitive sleuth who's also an astrologer...Like Sherlock Holmes, the eccentric Lowell makes deductions that astound or offend those privileged to hear them. Lewis, himself a practicing astrologer, leavens the action with just the right amount of technical exposition" —Publishers Weekly
"Murder in the 11th House begins a new series that introduces a unique character to the annals of detective fiction." —Gumshoe Review

 "This first book in the Starlight Detective Agency series is a good one and shows that astrology can be used in many ways."—Goodreads
"This first book in The Starlight Detective Agency Series is a definite winner… The writing is first-class, as it would be as the author is a practicing astrologer and the characters meld together so well."—Feathered Quill Book Reviews

"Murder In The 11th House is a fun lighthearted paranormal Manhattan murder mystery starring a brilliant idiosyncratic protagonist and his eccentric team...It is in the stars that readers will enjoy our first but not last visit to the Starlight Detective Agency."—Harriet Klausner Reviews
"Containing exciting and believable characters, "Murder in the 11th House" is a fascinating story from page one! [It] is the perfect read for mystery/thriller fans, those that enjoyed the television series, 'Monk', and anyone that likes a mystic twist in their novels...Frankly, I can't wait for the sophomore installment in the Starlight Detective Agency Mystery series!" —Bookfetish
Advertisement