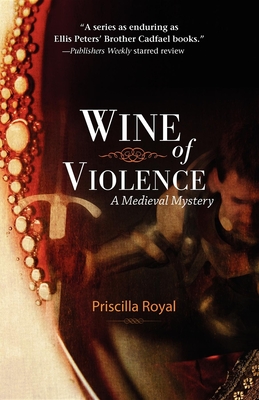 Wine of Violence (Medieval Mysteries (Poisoned Pen Paperback)) (Paperback)
Poisoned Pen Press, 9781590589656, 228pp.
Publication Date: October 4, 2011
* Individual store prices may vary.
Description
It is late summer in the year 1270 and England is as weary as its aging king, Henry III. Although the Simon de Montfort rebellion is over, the smell of death still hangs like smoke over the land. Even in the small priory of Tyndal on the remote East Anglian coast, the monks and nuns of the Order of Fontevraud long for a return to tranquil routine. Their hopes are dashed, however, when the young and inexperienced Eleanor of Wynethorpe is appointed their new prioress over someone of their own choosing. Nor are Eleanor's own prayers for a peaceful transition answered. Only a day after her arrival, a brutally murdered monk is found in the cloister gardens, and Brother Thomas, a young priest with a troubled past, arrives to bring her a more personal grief. Now she must not only struggle to gain the respect of her terrified and resentful flock but also cope with violence, lust and greed in a place dedicated to love and peace.The first in the Medieval Mystery series.
About the Author
Priscilla Royal, author of seven books from Poisoned Pen Pressin the Prioress Eleanor and Brother Thomas medieval mystery series, grew up in British Columbia and earned a BA in World Literature at San Francisco State University where she discovered the beauty of medieval literature. Before retiring from the Federal Government in 2000, she worked in a variety of jobs, all of which provided an excellent education in the complexity of human experience and motivation. She is a theater fan as well as a reader of history, mystery, andfiction of lesser violence. When not hiding in the thirteenth century, she lives in Northern California and is a member of California Writers Club, Mystery Writers of America, and Sisters in Crime."
Praise For Wine of Violence (Medieval Mysteries (Poisoned Pen Paperback))…
"In the year 1270 on the remote East Anglican coast, the new prioress of Tyndal priory (a small 'double house' where the monks and nuns run a hospital), the young Eleanor of Wynethorpe, is prepared to face some resentment but not the dire consequences of several deadly sins, including lust, in Royal's stellar debut. With its intriguing plot, chilling conclusion and characters who exhibit universal and timeless feelings, this fresh first has all the potential to evolve into a series as enduring as Ellis Peters's Brother Cadfael books." —Publishers Weekly starred review
"The plot moves quickly and the insights into the politics of life in a priory in 1270 are intriguing. . . . Royal obviously did her homework." —Historical Novels Review
 
"With its efficient depiction of the interaction between polities and religion, this amazing little slice of monastic life in 1270 Britain brings to mind Ellis Peters, Candace Robb, and other authors of medieval historicals. . . . A most promising debut." —Library Journal