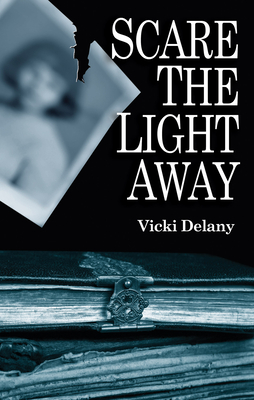 Scare the Light Away (Paperback)
Poisoned Pen Press, 9781590589922, 250pp.
Publication Date: April 1, 2012
Description
Recently widowed Rebecca McKenzie, a successful Vancouver businesswoman, returns to small-town Hope River after an absence of 30 years to attend her mother's funeral. Estranged from her father and two older siblings, she's left a brutal childhood and a psychopathic grandfather behind. She expects her visit home to be short. but then she discovers the diaries written by her mother, a British war bride with a young baby who came to Canada to join a husband she scarcely knew. Rebecca (and the reader) find her heart wrung by her mother's story.

Meanwhile, a young girl has gone missing, and the suspicions of the townspeople fall on Rebecca's handsome, charming brother Jimmy. Before long, violence threatens and Rebecca must put aside some long-held grievances to protect Jimmy and find the real killer.

This debut novel will appeal to readers of Jacqueline Winspear's Maisie Dobbs and Pip Granger's Not All Tarts Are Apple and its sequels, evoking admiration, respect, and sympathy for members of The Greatest Generation, both English and Canadian.
About the Author
Having taken early retirement from her job as a systems analyst in the high-pressure financial world, Vicki Delany is settling down to the rural life in bucolic, Prince Edward County, Ontario where she rarely wears a watch.
Praise For Scare the Light Away…
The idea of a woman returning for the first time in the 30 years since she fled from her dysfunctional, small-town family gets a poetic, honest and believably frightening treatment in this first mystery by Vicki Delany, one of Canada's most promising new practitioners of the crime genre. (I should note that Poisoned Pen Press has agreed--for reasons best known to its editors--to publish a collection of my reviews and essays in the fall.)

A major part of Delany's success is the mixture of love and anger with which she describes life in Hope River, the Ontario village where Rebecca McKenzie
grew up and where little has changed since she escaped, first to Toronto and then to Vancouver. "We walked silently back to the house," McKenzie says.
"The cloud blanket dispersed as night settled in but the moon had not yet risen. With no high leafy trees to shade them, the harsh yellow light from the street lamps shone far too bright, blocking any sight of stars on this clear night."

But the heartbreaking spine of "Scare the Light Away" is the diary of McKenzie's mother, a revealing and vivid document that not only helps advance the mystery's plot (a young girl has been murdered, and McKenzie's troubled brother is a leading suspect) but that also shows how bleak life was in Hope River during World War II--especially when one of the men left behind was a British war bride's insane father-in-law.

Delany does everything right, adding enough twists to a familiar story to make her Hope River, past and present, the place from which we all could have escaped. -- Dick Adler, Chicago Tribune (6 March 2005)
Advertisement