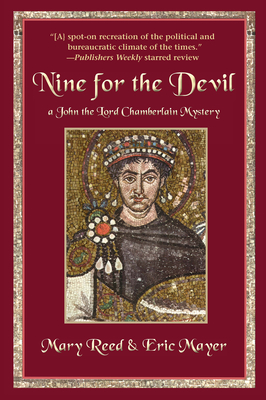 Nine for the Devil: A John, the Lord Chamberlain Mystery (Hardcover)
A John, the Lord Chamberlain Mystery
Poisoned Pen Press, 9781590589946, 308pp.
Publication Date: March 6, 2012
Description
The year is 548 and Empress Theodora is dead of disease. Or so everyone in Constantinople, capital of the Roman Empire, believes. Everyone except Emperor Justinian, who orders John, his Lord Chamberlain, tofind her murderer or suffer the consequences.
There is no sign of foul play, but many of the aristocrats at the imperial court had good reason to want Theodora dead. Suspects include General Artabanes, forced to occupy a house with an unloved wife; Justinian's cousin Germanus, who has seen his career blocked; and Antonina and her husband General Belisarius, enraged by Theodora's attempt to marry their daughter to her grandson by compelling the young couple to live together. Could the exiled and much hated former tax collector
John the Cappadocian have played a role? Might Gaius, palace physician, have tampered with Theodora's medication? Pope Vigilius, detained in the capital due to a religious controversy, is not above suspicion. Even John's friends, the lawyer Anatolius and Felix, captain of the place guards, are acting strangely.
As if seeking a murderer who seems to be a gment of the emperor's grief-deranged imagination isn't dif cult enough, John must also grapple with domestic upheavals. His daughter, living on an estate outside the city, is about to give birth, and his aging servant Peter is dying. Will John be able to serve justice, his loved ones, and the emperor?
About the Author
The husband and wife team of Mary Reed and Eric Mayer published several short Lord Chamberlain detections in mystery anthologies and in Ellery Queen Mystery Magazine prior to 1999's well-received One For Sorrow, the first full length novel about their protagonist. Nine For The Devil is the ninth entry in this award-winning historical mystery series.
Praise For Nine for the Devil: A John, the Lord Chamberlain Mystery…
"The puzzle is challenging enough to keep readers  searching for clues, but the triumph of the authors lies in their spot-on recreation of the political and bureaucratic climate of the times."—Publishers Weekly starred review of Nine for the Devil
"More complex and colorful than any Byzantine mosaic, Nine for the Devil by Mary Reed and Eric Mayer, will sweep you back into the cruel intrigue-ridden court of the Emperor Justinian, where treachery and murder linger behind every shadowed column of the imperial palace in Constantinople." —Robin Burcell, award-winning author of The Bone Chamber
"Twisty plotting, fabulous dialogue, and aristocratic backstabbing drew me into this clever plot (Who killed an Empress who showed no signs of being murdered?) and I could not stop reading until I watched master problem-solver John dance his way out of the deadly wrath of his grieving emperor." Jerrilyn Farmer, bestselling author of the Madeline Bean mysteries
"Subtle, well-drawn characters, from the ascetic John to the capricious and enigmatic Justinian; deft descriptive detail revealing life in the late Roman Empire; and sharp dialogue make this another winner in this outstanding historical series" —Publishers Weekly starred review of Eight for Eternity
"The story is fast paced, the tensions between characters well portrayed; the ending leaves the reader clamoring for more. Those interested in Istanbul's history may also enjoy series set in Ottoman Turkey by Jason Goodwin (The Janissary Tree) and Jenny White (The Sultan's Seal)." —Publishers Weekly review for Seven for a Secret
Advertisement