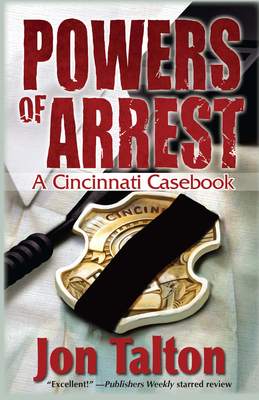 Powers of Arrest (Hardcover)
Poisoned Pen Press, 9781590589991, 262pp.
Publication Date: May 1, 2012
Description
Thanks to spinal tumor surgery, Cincinnati Homicide Detective Will Borders now walks with a cane and lives alone with constant discomfort. He's lucky to be alive and lucky to have a job as public information officer for the department. When a star cop is brutally murdered, he's assigned to find her killer. The crime bears a chilling similarity to killings on the peaceful college campus nearby, where his friend, pain nurse Cheryl Beth Wilson, is now teaching nursing. Moreover, the two young victims were her students. Most homicides are routine; the suspects readily apparent. But here, there are no easy suspects, and even Borders' stepson is under suspicion. This unlikely pair again teams up to pursue a sadistic predator before he kills someone else. Catching him will mean uncovering some of the darkest secrets in the Midwestern river metropolis where change is slow, tradition and history weigh as thick as the summer humidity, and danger can hide in the most respected places.
About the Author
Jon Talton is the author of nine novels, including the David Mapstone Mysteries and the thriller Deadline Man. He is also a veteran journalist, including the former business editor of the Cincinnati Enquirer. He began the Cincinnatti Casebook series with The Pain Nurse. Jon lives in Seattle where he is economics columnist for the Seattle Times and runs the blog Rogue Columnist.
Advertisement