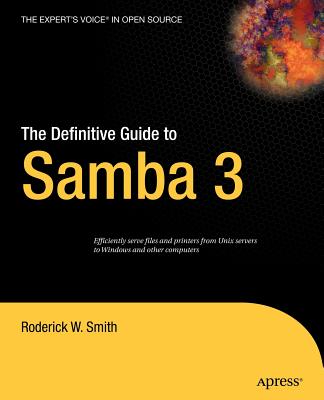 The Definitive Guide to Samba 3 (Definitive Guides) (Paperback)
Apress, 9781590592779, 625pp.
Publication Date: April 7, 2004
* Individual store prices may vary.
Description
If you're familiar with Unix administration, TCP/IP networking, and other common Unix servers, and you want to learn how to deploy Samba, this book is ideal for you. With this book as a guide, you can quickly configure a basic Samba server and then move on to learn about Samba's more exotic features, including those new to Samba 3.0. The topics in this book are approached from both an experienced Unix user and an administrator's point of view, to help you optimize Samba.
Samba is an efficient file and print server that enables you to get the most out of your computer hardware. In Samba 3.0, many important features have been added, particularly in the realm of domain administration and membership, such as improved support for membership in Windows 200x domains and a wider array of authentication options. Samba also boasts several advanced features with which you can perform very complex tasks. For instance, Samba can control an NT domain, burn CD-Rs with drag-and-drop operations from the client, and function as part of a network backup system.
The Samba dance after which the server is named is known for its liveliness, and the server is similarly energetic and dynamic. So join in--you may make a misstep or two, but this book will help you avoid making too many, and you'll soon be doing the (TCP/IP) Samba along with the best
About the Author
Cheridan Smith has been involved in Web development and design since 1997, when she began working on a research team for the "Y2K" millennium bug. It was here that she learnt about the Internet and promptly fell in love with the medium. In her career, she has been responsible for websites in the early 2000s, such as Weight Watchers Australia and Quicken.com.au, and worked as creative services manager of Yahoo! in Australia with clients such as Toyota, 20th Century Fox and Ford. She works as a senior interactive project manager for an Australian advertising agency.