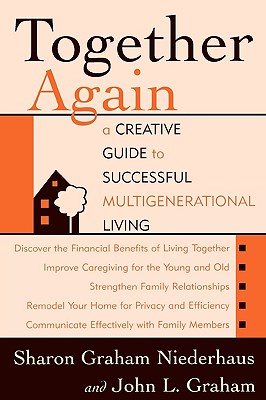 Together Again: A Creative Guide to Successful Multigenerational Living (Paperback)
A Creative Guide to Successful Multigenerational Living
M. Evans and Company, 9781590771228, 297pp.
Publication Date: February 1, 2007
* Individual store prices may vary.
or
Not Currently Available for Direct Purchase
Description
The popular press has taken notice of two current trends in housing arrangements: three-generation households, and twenty-somethings staying at home longer. These are not separate trends, but part of a larger nationwide cultural shift to extended families reuniting. Together Again: A Creative Guide for Successful Multigenerational Living is intended to make this cultural shift go smoothly. As it stands now the benefits of extended family living are being masked by the World War II generation's fancy for independence. That worked fine for them. But the coming failure of the social security and healthcare systems in this country are forcing us all to rethink how we live and care for one another. This book offers solutions based in part on interviews with over 100 people now involved in extended family living relationships. Topics covered include the financial and emotional benefits of living together; proximity and privacy; designing and remodeling your home to accommodate adult children or elderly parents; overcoming cultural stigmas about independent living; financial and legal planning; and making co-habitation agreements.
About the Author
Sharon Graham Niederhaus recently completed her master's thesis at Stanford University on multi-generational living arrangements. A credentialed teacher K-12, she has written numerous articles in educational journals and was inducted into San Mateo County's Women's Hall of Fame in 1993. John L. Graham is Professor of Marketing and International Business at the Graduate School of Management, University of California, Irvine. He is the author of Doing Business with the Japanese as well as more than fifty articles and chapters in academic and management journals and books. He has also written more than forty articles for The New York Times, Los Angeles Times, and other newspapers, and has been interviewed on NBC Nightly News and the BBC.
Advertisement