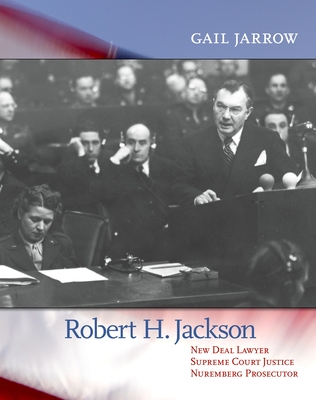 Robert H. Jackson: New Deal Lawyer, Supreme Court Justice, Nuremberg Prosecutor (Hardcover)
New Deal Lawyer, Supreme Court Justice, Nuremberg Prosecutor
Calkins Creek Books, 9781590785119, 128pp.
Publication Date: June 1, 2008
Description
Meet Robert H. Jackson in an engaging biography, the first in fifty years. For four hours on November 21, 1945, the world watched and listened as Justice Robert H. Jackson, on leave from the U.S. Supreme Court, introduced the Allies' case against the high-ranking Nazi leadership at the Nuremberg Trial. For the first time, a country's leaders were being tried for war crimes, in large part owing to Jackson's efforts. Gail Jarrow's biography of Robert H. Jackson (1892-1954) details the personal journey of this extraordinary man from his childhood in rural New York; to President Franklin D. Roosevelt's New Deal inner circle during the Great Depression; to the position of attorney general while the nation prepared for World War II; to the Supreme Court bench when it ruled on such significant cases as Brown v. Board of Education of Topeka; and to chief U.S. prosecutor at the Nuremberg Trial. Despite his remarkable accomplishments, Jackson never attended college or earned a law degree. Using primary sources--including Jackson's papers in the Library of Congress and materials from the Robert H. Jackson Center in Jamestown, New York--Jarrow tells the fascinating story of a lawyer and judge dedicated to the rule of law. A timeline, bibliography, source notes, additional resources, and index are included.
About the Author
Gail Jarrow has written fourteen books for children and young adults. Her nonfiction books have received high acclaim, including, the ALA Quick Picks for Reluctant Readers and the American Bookseller's "Pick of the Lists." She lives in Ithaca, New York.
Advertisement