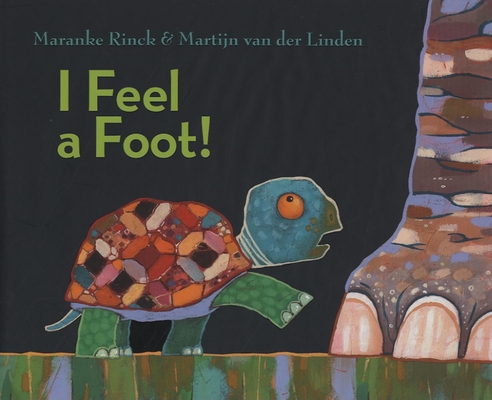 I Feel a Foot! (Hardcover)
Lemniscaat USA, 9781590786383, 38pp.
Publication Date: September 1, 2008
Description
 "Between two trees, high above grass and ground, Turtle, Bat, Octopus, Bird and Buck are sleeping in a hammock. Suddenly, Turtle opens his eyes. 'Hey,' he whispers. 'Do you hear what I hear?'"  Each animal's imagination runs wild with what wild creature may be making the sound they all hear. Is it a giant turtle? Or a bird with a giant beak? Perhaps it is Bat-Tur-Octo-Bird- Buck. Luckily for the small animals, it isn't any of these creatures. It is just their old friend Elephant who was out wandering around. The animals invite him to join them in the hammock and soon the wild imaginings about the night noises begin all over again.
About the Author
Maranke Rinck studied music and dance in secondary school. She graduated in interactive skills and now teaches people who are going to be teachers. She is the author of two other books, "The Prince Child"""and"The Sweetest Kiss."
Praise For I Feel a Foot!…
Kirkus
 "Rinck's narrative is crisp and direct, and economical enough to be tackled by beginning readers, and van der Linden's illustrations are superb. ... A winner."
Shelf Awareness
"This nocturnal guessing game from the team behind Prince Child and its companion, The Sweetest Kiss, will appeal to children and parents alike as a picture-book remedy to the notion of monsters-under-the-bed and as a clever puzzle for young animal lovers. ... Rinck and van der Linden strike just the right note between suspense and reassurance to offer a bedtime tale with a humorous twist."
School of Library Journal

"The large art makes the book an ideal read-aloud; after several re-readings, children are sure to join in on the "superduper" responses of the characters. A silly but clever twist at the story's close provides a 'what happens next?'" discussion opportunity."--Barbara Elleman, Eric Carle Museum of Picture Book Art, Amherst, MA, School Library Journal
Advertisement