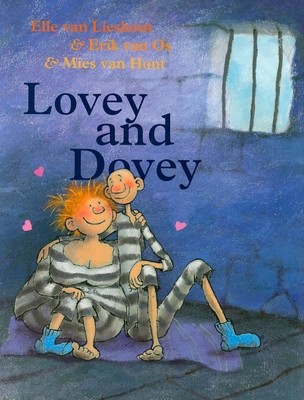 Lovey and Dovey (Hardcover)
Lemniscaat USA, 9781590786604, 32pp.
Publication Date: January 1, 2009
Description
Lovey and Dovey have stolen each other's hearts and a pair of blue socks from the shop on the corner. That's why they're in prison. The robbers have made their cell so comfortable that, when released, they don't know what to do. Fortunately, an attractive pair of pink socks might send them right back home.
About the Author
Elle van Lieshout and Erik van Os, a husband-and-wife team, write books, songs, and poetry for young children and beginning readers. Their picture-book titles include "The Nice Party, The Nothing King, and The Wish. "
Praise For Lovey and Dovey…
Kirkus Review - Children (01/01/2009):
A starred review.  A winsome prison fable from the Netherlands. Lovey and Dovey, she plump, he thin as a rail, both clad in prison stripes, have & quot;stolen each other & apos;s hearts & quot; & #x2014;but that & apos;s not why they languish in Katakom. They also stole a pair of blue socks, which they now wear, Lovey on her right foot, Dovey on his left. When Lovey complains about the view, Dovey squeezes through the bars, tears a square of & quot;sun and sea & quot; from the landscape and takes it back to their cell to hang on the wall. This is followed by the moon, an apple tree and so on. A wordless subplot depicts a rabbit artist who follows Dovey, painting in his own designs on the blank silhouettes left behind by Dovey & apos;s thefts. Van Hout places her endearing convicts, rendered as line-and-color cartoons, against soft-edged backgrounds, the harsh gray of the cell modulating to bright pastels as the outside is brought in, piece by piece. & quot;But one day, disaster struck: they were released. & quot; The resolution may well bring pause to adults, but children will respond to its daffy logic and celebrate along with the lovers. (Picture book. 5-8)(COPYRIGHT (2009) KIRKUS REVIEWS/NIELSEN BUSINESS MEDIA, INC. ALL RIGHTS RESERVED.)
Publishers Weekly (01/19/2009):
Full-bleed illustrations, comic and unabashedly heartwarming, brim with details that encourage a second reading. ... Quirky, playful and altogether inviting.
Advertisement