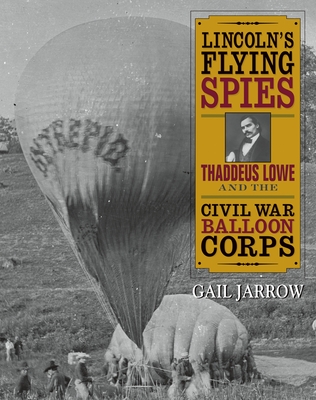 Lincoln's Flying Spies: Thaddeus Lowe and the Civil War Balloon Corps (Hardcover)
Thaddeus Lowe and the Civil War Balloon Corps
Calkins Creek Books, 9781590787199, 112pp.
Publication Date: October 1, 2010
Description
On June 1, 1862, Thaddeus Lowe floated above a fierce Civil War battle in a silk hydrogen balloon. From the wicker basket dangling a thousand feet above ground, he telegraphed a message to Northern generals on the ground: Union troops were finally driving back the Confederate forces. Lowe's message was transmitted to the War Department in Washington, where President Abraham Lincoln read his flying spy's good news with relief. For two years during the Civil War, a corps of balloonists led by Thaddeus Lowe spied on the Confederate army. They counted rebel soldiers, detected troop movement, and directed artillery fire against enemy positions. Lowe and his aeronauts provide valuable intelligence to the Union army, even after the balloons became targets of Confederate shooters and saboteurs. Using Civil War photographs and primary sources--including Lowe's papers in the Library of Congress and the writings of Confederate and Union soldiers--Jarrow reveals the dangers, personality clashes, and other challenges faced by the nation's first air force in this Voice of Youth Advocates Nonfiction Honor List book.
About the Author
Gail Jarrow is the author of Robert H. Jackson: New Deal Lawyer, Supreme Court Justice, Nuremberg Prosecutor and The Printer's Trail: The Case of John Peter Zenger and the Fight for a Free Press, as well as other award-winning books for children and young adults. Her articles and stories have appeared in various children's magazines, including Highlights for Children, Cricket, Muse, Spider, Cobblestone, and Faces.
Advertisement