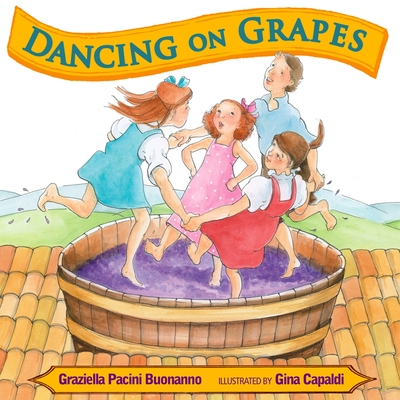 Dancing on Grapes (Hardcover)
Boyds Mills Press, 9781590788332, 40pp.
Publication Date: October 1, 2011
Description
Claudia can't wait to take part in the annual grape harvest in her Tuscan village. The harvest means hard work, and Claudia's whole family pitches in to gather grapes from the vineyard. But there's plenty of opportunity for fun, too, now that she's old enough to join her cousins crushing grapes in the big tub. Unfortunately, the tub sits high atop the cantina, and Claudia is afraid of heights. Within the warm embrace of her large family, Claudia musters the courage to climb the tall ladder to the roof, where she celebrates with a joyful dance on the grapes. This endearing story is based on the author's memories of her own Tuscan childhood. Gina Capalid's warm illustrations beautifully evoke life on an Italian vineyard in the 1950's.
About the Author
Graziella Pacini Buonanno: Graziella Pacini Buonanno was born in Lucca, Italy, the inspiration for Dancing on Grapes. She was a public-school teacher for twenty-five years in Tarrytown, New York, where she lives. This is her first picture book.Gina Capaldi: Gina Capaldi has written and illustrated a number of books, including A Boy Named Beckoning: The True Story of Dr. Carlos Montezuma, Native American Hero, winner of the 2009 NCTE Orbis Pictus Award. She lives in San Dimas, California.
Advertisement