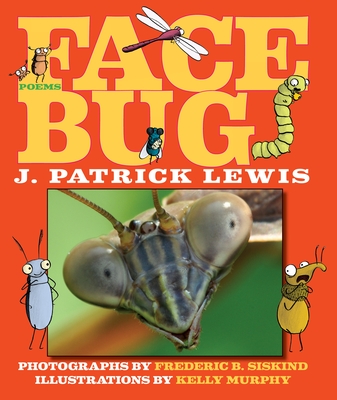 Face Bug
Hardcover

* Individual store prices may vary.
Description
Come to the grand opening of the Face Bug Museum where readers can join an insect crowd to see amazing close-up photographs of bug faces, meet the bugs featured, and participate in interactive museum exhibits. In this innovative book of poetry, drawings, and photographs, J. Patrick Lewis's sly, humorous poems introduce readers to each of fourteen bugs. Kelly Murphy's black-and-white drawings create a funny visual story about two beetle friends gleefully exploring this memorable museum. In addition, awe-inspiring, dramatic (very) close-up photos of bug faces decorate the museum walls. A book of poetry and photographs and a picture-book story rolled into one, Face Bug is a unique collaboration.
Praise For Face Bug…
"Bugs get a close-up in this new book of poetry that shows off their thousands of eyes, bucktooth incisors, prickly exteriors and more. Frederic B. Siskind's wonderfully creepy full-color photographs and Kelly Murphy's cartoony black-and-white illustrations are abuzz with activity alongside J. Patrick Lewis's witty verses about insects and spiders. Some bugs are cleverly camouflaged, while others flaunt their colors, but they all have something worth celebrating, even the slimy-seeming Eastern Dobsonfly. . . " -- The Washington Post

. . ."There will be many returns to the Face Bug Museum as this book has so much to offer. Wonderfully conceived and executed."--School Library Journal
Wordsong, 9781590789254, 36pp.
Publication Date: March 1, 2013
About the Author
J. Patrick Lewis is the 2011 winner of the NCTE Award for Excellence in Poetry for Children and is the current U.S. Children's Poet Laureate. He has written more than sixty books for children and adults, including If You Were a Chocolate Mustache, Spot the Plot: A Riddle Book of Book Riddles and Please Bury Me in the Library. In Spring 2013, he has two other picture books scheduled: Poemobiles: Imaginary Car Poems (co-written with Douglas Florian, Schwarz & Wade) and World Rat Day: Poems About Holidays You Have Never Heard Of (Candlewick). He lives in Westerville, Ohio.

Frederic B. Siskind's photographs have appeared in Life, National Geographic Kids, Nature's Best, Natural History, Outdoor Photographer, and Birder's World; in children's books on lions, dragonflies, butterflies, caterpillars, fireflies, and amphibians; and in calendars published by Audubon, Teldon, and Shearson. He lives in McLean, Virginia.

Kelly Murphy has illustrated numerous picture books and chapter books, including the New York Times best seller Masterpiece; Secrets at Sea; and the Nathaniel Fludd, Beastologist book series. She teaches at the Rhode Island School of Design and lives in Providence, Rhode Island.
or
Not Currently Available for Direct Purchase