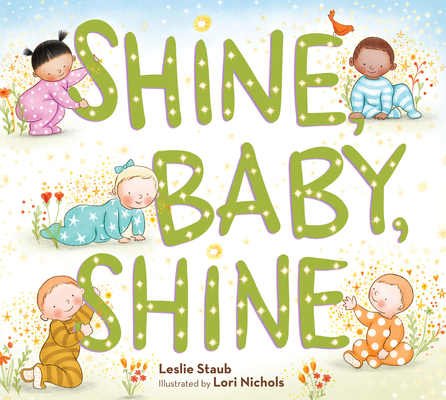 Shine, Baby, Shine
Hardcover

* Individual store prices may vary.
Description
A perfect gift for new parents, grandparents, caregivers, or siblings, this evocative picture book celebrates the boundless, universal love that a baby brings into the world.

The birth of a new baby brings joy and profound meaning into its family and the world around them. An ordinary day in the lives of four diverse families is made extraordinary by the love their newest family member both gives and inspires. Readers will see a reflection of their own caring relationships in Leslie Staub's joyful writing and Lori Nichols's brilliant, shining illustrations. This inspirational book is an ode to the tender love that babies give and receive and reminds families everywhere always to make time to cherish and love each other.
Praise For Shine, Baby, Shine…
"A picture-book celebration of babies and their individuality. Smooth cartoon illustrations with stardustlike detailing depict... characters (recurring) throughout the book, the ever present sparkles emphasizing the title's 'shine.' This family diversity contributes to the picture book's success, making it stand apart from a surfeit of titles about beloved babies. Warm and bright." — Kirkus Reviews
Astra Young Readers, 9781590789315, 32pp.
Publication Date: March 18, 2020
About the Author
Leslie Staub is the author of Time for (Earth) School, Dewey Dew and How Do You Say I Love You, Dewey Dew?. She is also the author and illustrator of Bless This House and has illustrated various titles including Lee Bennett Hopkins' Lives: Poems About Famous Americans and Mem Fox's Whoever You Are.

Lori Nichols is the author and illustrator of the award-winning picture book, Maple and its companion books: Maple & Willow Together, Maple & Willow Apart, and Maple and Willow's Christmas Tree. She is also the illustrator of David Elliott's books about Orq, including This Orq. (He cave boy.) as well as No, No, Kitten! by Shelley Moore Thomas; and Go Sleep In Your Own Bed by Candace Fleming. Visit lorinichols.com.