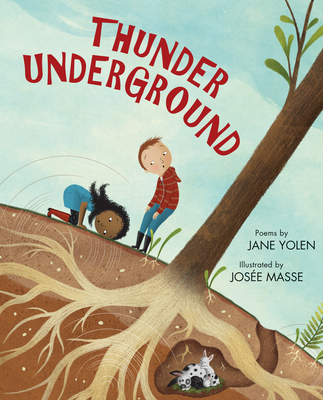 Thunder Underground (Hardcover)
Wordsong, 9781590789360, 32pp.
Publication Date: March 28, 2017
* Individual store prices may vary.
Description
In this collection of poems, noted children's poet Jane Yolen takes readers on an expedition underground, exploring everything from animal burrows and human creations, like subways, near the surface—to ancient cities and fossils, lower down—to caves, magma, and Earth's tectonic plates, deeper still below our feet. At the same time, in Josée Masse's rich art, a girl and boy, accompanied by several animals, go on a fantastic underground journey. This book contains science, poetry, and an adventure story all rolled into one. But it's also more than that: In these poems we see that beneath us are the past, present, future—history, truth, and story. This thought-provoking collection will evoke a sense of wonder and awe in readers, as they discover the mysterious world underneath us.
About the Author
Jane Yolen has been called the Hans Christian Andersen of America and the Aesop of the twentieth century. Her many awards include both the Kerlan Award and the Regina Medal for the body of her work. She lives in Hatfield, Massachusetts, and St. Andrews, Scotland. janeyolen.com

Josée Masse is the illustrator of the critically-acclaimed reverso poems by Marilyn Singer (Mirror Mirror, Follow Follow, and Echo Echo) and the Frog and Friends (I Can Read) series by Eve Bunting. She lives in Montreal, Canada. joseemasse.com
Praise For Thunder Underground…
*"Twenty-one poems...encourage children to explore what is under their feet using imagination and wonder. (E)ach poem honors the ability of young readers to navigate syntax, imagery, and wordplay. Yolen's treatment of the underground is expansive...(and) Masse's mixed-media illustrations portray the imaginary points of view with aplomb. A thoughtful exploration of nature expressed in poetry that should open the eyes of children to unseen worlds." - Kirkus Reviews, starred review

*"Yolen pays tribute to the natural...and the man-made...as well as musing on lost cities, (and) pirate treasure...Blending creativity with scientific fact, (her) poems appeal to readers' imaginations and intellects alike." - Publishers Weekly, starred review

"...This collection illuminates the rich world of activity that goes on beneath our feet. The warm, naturalistic illustrations of underground scenes...often contain an element of charming whimsy...(and) nicely compliment the verses. Great for either a school or public library." – Booklist

"Through a variety of poetic forms, readers will...uncover buried history...The text embodies wonder and factual information...The detailed illustrations...tie the book together and provide little Easter eggs for kids to notice on every page. For scientists and daydreamers, this...volume of poetry approaches the world from a variety of thought-provoking perspectives in an attractive and engaging package." -School Library Journal

"This book of short, fun poems… could be used to teach both poetry and content. The illustrations are bright and feature two children discovering all the wonderful things that live underground." -School Library Connection

"Twenty-one poems invite children to consider the worlds—natural and manmade— beneath their feet…. shifting perspectives add a sense of playfulness. Notes…for each poem round out this title, offering extra information, conversation starters, and possibly inspiration for children to write about their own subterranean interests." The Bulletin of the Center for Children's Books