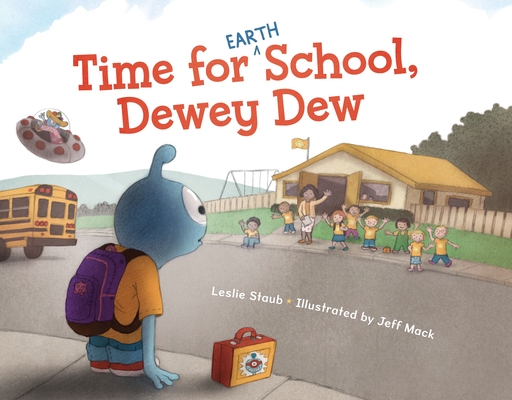 Time for (Earth) School, Dewey Dew (Hardcover)
Boyds Mills Press, 9781590789582, 32pp.
Publication Date: June 21, 2016
* Individual store prices may vary.
Description
Click-Clack Waddle Dot Dewey Dew from Planet Eight Hundred Seventy-Two Point Nine does not want to go to school—not on his planet, and definitely not on Planet Earth at Mrs. Brightsun's School for Little Learners. Everything on Earth is different. His clothes don't fit right, his classmates don't look like him, and even Earth noises sound weird. In this first day of school story with a twist, nervous Dewey Dew learns that new experiences—like going to school on another planet—might be okay after all.
About the Author
Leslie Staub is the author of Everybody Gets the Blues and the author and illustrator of Bless This House. She also illustrated Lives: Poems About Famous Americans and Whoever You Are. She lives in New Orleans, Louisiana.

Jeff Mack is the illustrator of multiple picture books, including Bunnicula and Friends and Hurry! Hurry! He has also written and illustrated many picture books, chapter books, and early readers, including Clueless McGee, Good News Bad News, and the Hippo and Rabbit series. He lives in Easthampton, Massachusetts. Visit jeffmack.com.
Praise For Time for (Earth) School, Dewey Dew…
It's one thing to feel like an alien on your first day of school. It's another thing to be one.... the amusing text works seamlessly with the artwork... A fine read-aloud choice, this picture book explores what it feels like to be the new kid, whatever planet you call home.'—Booklist

"Dewey Dew is blue, has one eye and an antennalike appendage on his head, and is from Planet Eight Hundred Seventy-Two Point Nine. But for his first day of school, he is heading, reluctantly, for Earth and Mrs. Brightsun's School for Little Learners. But nothing there looks, feels, or sounds quite right to Dewey Dew... Mack's pencil, watercolor, and digital illustrations are a delight. Though they've likely never met an ET, readers won't have any trouble decoding what the unfamiliar words mean or how Dewey Dew feels about his single eye, 3-fingered hands, and lack of hair amid the other students, who are nicely multiracial.ET or not, the first day of school will be ootay." —Kirkus Reviews

"Little one-eyed alien Dewey is anxious about starting school on Earth... The alien perspective is at once relatable to kids and distant enough to provide a neutral, safe place to ponder the worries of starting school.... This is just the ticket for freshening up a back-to-school storytime or a first-day-of-school readaloud session." —The Bulletin of the Center for Children's Books