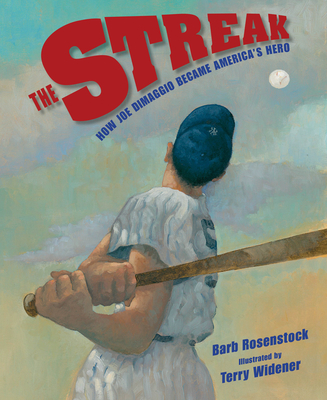 The Streak (Hardcover)
How Joe DiMaggio Became America's Hero
Calkins Creek, 9781590789926, 32pp.
Publication Date: March 1, 2014
* Individual store prices may vary.
Description
Perfect for every baseball fan, here is the story of New York Yankees baseball great Joe DiMaggio's longest hitting streak in baseball history.

In the summer of 1941, Yankee center fielder Joe DiMaggio and his favorite bat, Betsy Ann, begin the longest hitting streak in baseball history. But when Betsy Ann goes missing, will DiMaggio keep hitting? Set on the brink of World War II, this is a spellbinding account of a sports story that united the country and made DiMaggio a hero, at a time when one was profoundly needed. Barb Rosenstock's action-packed text and Terry Widener's powerful illustrations capture DiMaggio's drive as well as his frustration. The book also includes headlines, quotes, stats, and a detailed bibliography.
About the Author
Barb Rosenstock is the author of several award-winning nonfiction titles, including: Fearless: The Story of Racing Legend Louise Smith; The Littlest Mountain, a Sydney Taylor Honor Book; and The Camping Trip that Changed America, a Parents' Choice silver medal book and one of Booklist's Top 10 Books on the Environment for Youth. She lives outside Chicago with her family. Visit barbrosenstock.com.

Terry Widener is the award-winning illustrator of more than thirty children's books, including Lou Gehrig: The Luckiest Man, a Boston Globe-Horn Book Award Honor Book, The Babe and I, a California Young Reader Gold Medal Award, and America's Champion Swimmer: Gertrude Ederle, a School Library Journal Best Book of the Year and ALA Notable Children's Book. He lives with his wife in Texas. Visit terrywidenerart.com.
Praise For The Streak: How Joe DiMaggio Became America's Hero…
* "Rosenstock transports readers to the summer of 1941, when war loomed and DiMaggio set a new MLB record with a 56-game hitting streak, uniting a nation. . . Rosenstock builds delicious tension and emotion as the streak grows. . . and Widener is equally in his element--one can almost feel DiMaggio's baggy Yankee pinstripes rustling as he dashes to first base after yet another hit. . . A rousing and inspiring account of an athletic achievement that has yet to be bested." --Publishers Weekly, starred review

"Joe DiMaggio's 56-game hitting streak is considered one of the greatest feats in baseball and the one least likely to be replicated. . . Rosenstock's game descriptions capture the momentum and let readers see and feel the events as if they were at the games. . . Widener's expansive, double-page illustrations, rendered in acrylic on bristol paper, in earth tones of green and gold, are larger than life, elongating DiMaggio as he takes his stance, rounds the bases or grips his bat. . . DiMaggio's remarkable hitting streak is freshly presented for a new generation of fans." --Kirkus Reviews

"Rosenstock cranks up the significance of DiMaggio's 56-game, as yet unbeaten hitting streak, in 1941. She does this through a dramatic season recap with the rising game numbers in red, and by taking note of the war tensions that heightened in parallel that summer. Joltin' Joe's game bat, nicknamed Betsy Ann, practically becomes another character, and the tale of its theft and recovery midcourse further raises the suspense. Widener, who has illustrated a number of picture books about great baseball players of the past, supplies green-and-gold acrylic action scenes featuring both the lanky batter and, often, contemporary newspaper headlines about the streak and the war. . . " --Booklist

"Placed within the historical context of the last perfect baseball summer before America's involvement in World War II, Joe DiMaggio's 56-game hitting streak of 1941 becomes even more impressive. Rosenstock also captures the drama surrounding the feat: how a player from humble beginnings with hands that were used to hard work now held a bat, how DiMaggio named his bat "Betsy Ann" and only used it for games, and how the bat was stolen on the very day he was to break the previously held record. An occasional phrase in bold red type adds to the superhero quality of the story, while the slightly blurred acrylic illustrations make the characters seem as if they were captured in motion, creating a nostalgic effect. Detailed souce notes, a lengthy bibliography, and lots of stats round out the presentation." --School Library Journal

"With Terry Widener's lovely, fluid paintings, author Barb Rosenstock mixes history, biography and romantic nostalgia." – USA Today