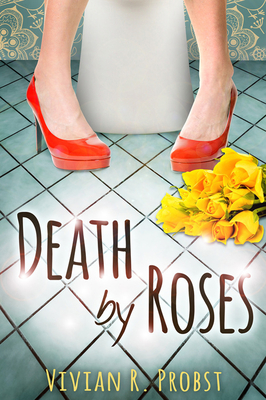 Death by Roses (Paperback)
SelectBooks, 9781590791486, 320pp.
Publication Date: February 3, 2015
* Individual store prices may vary.
Description
For the first time in nearly thirty years of marriage, Art McElroy Sr. buys his headstrong, disapproving wife a dozen yellow roses. Hours later he discovers her lifeless body seated on the toilet. Mae Rose McElroy's sudden death leaves a void in her family and in the entire Midwestern farming community of Fairview. It's a void Mae Rose will attempt to fill, herself, from the hereafter by meddling directly in earthly affairs.
Mae Rose's meddling leads to her spiritual expulsion from heaven, and she winds up in the body of Mary Lee Broadmoor (Scary Mary), a crusty writer and director of exquisite horror movies. Mary Lee refuses to succumb to stage-4 pancreatic cancer until she gets one final shot at an elusive Oscar. Like Mae Rose, who argues with God for a return to earth, Mary Lee pleads, from her Hollywood deathbed, for more time to complete her work, as her hospice nurse, Gertie Morgan, looks on.
The two women's spirits work together, and Mae Rose provides her host with a new script idea: a love story, based on her life! The script earns Mary Lee her coveted Academy Award, but the movie's release shocks and disturbs Mae Rose's family. They set out to find, and confront, the woman who has somehow co-opted, and publicly revealed, their personal tragedy.
Along the way, new love emerges as the reader meets a caste of crazy, eccentric, but highly memorable characters. Death by Roses suggests that relationships don't end at death, but continue until their ultimate purpose is achieved. The universe has every resource at its disposal to get the job done. It also has an amazing sense of humor
About the Author
Ruth Theobald-Probst (pen name Vivian) is an author and entrepreneur, whose first novel, Death by Roses, explores her fascination with the comedic side of worldly and otherworldly events. Ruth has been writing fiction for the past 14 years, during which time she also has built a successful national consulting practice. Her company provides training to major investment firms that work in the affordable-housing industry. 
Praise For Death by Roses…
A catchy premise and entertaining characters... When smalltown housewife and busybody Mae Rose dies ignominiously on the toilet, killed by a lifetime of rage against her husband and just about everyone else, she's set up to learn a heavenly lesson in forgiveness and being careful what you wish for. Mary Lee is a famous horror-movie writer, terrible mother, and outrageously difficult cancer patient with a burning desire to finally win an Oscar before she kicks the bucket. Nearly dead, she is revived when Mae Rose's spirit joins hers in Mary Lee's body, leading to hilarious situations and an unlikely—yet oddly believable—connection between their family members. As their families, friends, frenemies, and others circle like curious vultures, the two women cobble together one life between them, irrevocably changing both their destinies. Humorous and flowing... this should elicit giggles all the way through. Agent: Neil Gudovitz, Waterside Productions. (Feb.)
— Publisher's Weekly
"Funny and sweet, this book is a charming and captivating love story for the ages.
Death by Roses is an endearing, delightful, and possibly life-changing romance.
Argument after argument, Mae Rose and Art have been married for what feels like forever. Even when Art tries to do good by his wife, things go wrong. After one final fight, Mae Rose stomps off to the bathroom—where she dies sitting on the toilet.
Fast forward to the afterlife: after meddling one too many times, Mae Rose is banished (yes, banished) back to earth to coexist with another soul in the same body—Mary Lee, a famous screenwriter and director trying for an Oscar before her death. Using Mae Rose's life story, she wins her Oscar, leading to Art and his family discovering that this new wonderful movie is about their very private life.
Vivian R. Probst writes with a sense of humor, such as when Mae Rose is waiting in a skimpy drape at a doctor's appointment: "It amused her that even the most famous people in the world did this, including the president of the United States, the Dalai Lama, George Clooney—they all wore this attire at one time or another. She burst out laughing." Or, during Mae Rose's funeral, when Art "imagined Mae Rose's VW with tin cans tied to the back bumper. Instead of 'Just Married,' the sign read 'What Happened?'"
The novel includes numerous, entertaining subplots, which add rich layers to the book. Art Jr. falling in love, for example, and Mary Lee's hospice nurse and doctor's odd love story, and even Art and Mae Rose's son John as he marries and learns he is to be a father, all add honesty and compassion to the writing.
Timeless and enthralling, even educational, Death by Roses is top shelf." — Foreword Reviews
or
Not Currently Available for Direct Purchase