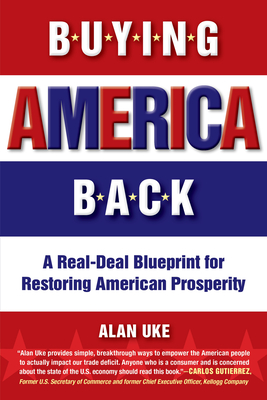 Buying America Back (Paperback)
A Real Deal Blueprint for Restoring American Prosperity
SelectBooks, 9781590792308, 192pp.
Publication Date: April 10, 2012
* Individual store prices may vary.
Description
The trade gap between the United States and China is a perennial news staple. Our commonplace goods are manufactured in such far-flung places as Honduras, Mexico, and Korea. Why has the distinction Made in America become such a rarity? The cynics always talk about the hard economic realities of our times. They suggest that American manufacturing has reached the end of its road; this is the price we pay for globalization. Alan Uke sees it differently. Buying America Back outlines his plan to turn back the tide with a grass-roots movement to promote American industry by helping American consumers have a better understanding of where their goods (and services) come from. Buying America Back emphasizes the importance of grooming a culture of self-informed consumers in the U.S.A., while reinforcing this with initiatives from the federal government. Surprising and enlightening, Buying America Back encourages us to take action to serve our part as responsible consumers and conscientious citizens. American prosperity is not a thing of the past, and this book shows us the way back! San Diego entrepreneur Uke presents a straightforward thesis in this engaging policy proposal: consumer thirst for cheap imports has strangled U.S. manufacturing employment and stifled our economy. The manufacturing sector, which lost 5.2 million jobs from 2000 to 2010, accounts for only 10% of the economy compared with its dominant role in 1965. Uke explodes the myth of a shift to high-tech output and notes that Germany and other countries with higher labor costs than ours compete successfully with Asia. He argues convincingly that the offshore exodus of production facilities entails the loss of high-paying spinoff jobs, the departure of R&D facilities and other centers of innovation, and the erosion of service-sector jobs. The proper response, Uke plausibly argues, is not across-the-board protectionism or isolationism, but empowering the consumer by toughening disclosure of country-of-origin product data. Accurate disclosure would enable consumers to reward local producers or those with high local-product content. Uke perceptively points out that this approach is increasingly popular with food, and prevalent in many other countries. Determined consumer leadership on this issue, he maintains, could goad Congress into action and prompt corporations to revive domestic production. Uke's refreshingly invective-free writing and hands-on manufacturing experience compel our consideration; his proposal is simple and his goals are lofty. Attention should be paid. Agent: Bill Gladstone. (Apr.) --PUBLISHERS WEEKLY
About the Author
Alan Uke is a San Diego businessman, entrepreneur and community leader. His vision and business skills have provided hundreds of jobs and revenues for the San Diego area for over 40 years.