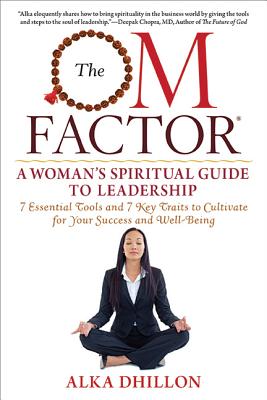 The Om Factor (Paperback)
A Woman S Spiritual Guide to Leadership
Select Books (NY), 9781590792995, 224pp.
Publication Date: May 5, 2015
* Individual store prices may vary.
Description
How can successful women flourish when they're caught in a never-ending battle of seemingly conflicting interests: ambitions to pursue demandin careers, dedication to home and family, desire for intellectual self-improvement, and yearning for fulfillment of emotional and spiritual needs?
Alka Dhillon presents today's women with a unique program t integrate the disparate aspects of their lives into a harmonious whole. TheOM Factor: A Woman's Spiritual Guide to Leadership provides seve essential tools and seven key character traits to cultivate for personal succes and well-being.
Women who develop their OM Factor benefit from engaging both immediate and long-term fixes to deal with stress and imbalance. The author describes seven "plug-and-play" tools designed to quickly deliver effective results in emotionally challenging situations. Recommendations for applying the tools are followed by ways to cultivate seven important traits to achieve a spiritual evolution. Each trait is accompanied by a corresponding yoga pose, including photographs and instructions, lending the reader a dynamic manifestation of the trait's essence.
Alka Dhillon brings her years of success as a CEO and entrepreneur to help you discover your own roadmap to equilibrium. The OM Factor will help you to achieve internal fulfillment and engender your external success.