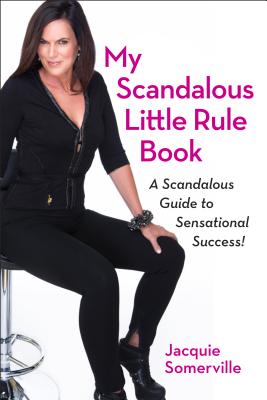 My Scandalous Little Rule Book (Paperback)
A Scandalous Guide to Sensational Success!
SelectBooks, 9781590793008, 224pp.
Publication Date: January 17, 2017
* Individual store prices may vary.
Description
Buckle up folks, this is one wild ride. Brimming with true-life shockers and candid confessions, My Scandalous Little Rule Book is a self-help book like no other. Part naughty memoir, part advice column, author Jacquie Somerville irreverently spells out her rules for embracing risk, challenging the perceived "norm," and living a more exciting life. Using her "insane" stories (real-life escapades) to illustrate her "sane" solutions, Jacquie shows you how to be your own soul mate, reject mediocrity, and achieve a life without regrets.

Enlightened by Jacquie's vulnerability and honesty, My Scandalous Little Rule Book flies in the face of tradition. The premise of the book is to encourage people to "stop being so cautious – take a risk, achieve some major shit, and have some fun!" Jacquie argues that people typically play this game of life way too cautiously, and, in doing so end up slipping safely into the grave, having never lived. My Scandalous Little Rule Book aims to show readers how to avoid compromise and the "abyss of mediocrity."

Society is obsessed with the notion that in order to be happy, we have to find our "soul mate." Jacquie is driven to debunk this myth and, as illustrated by her first "rule", proves that the key to a life filled with love, happiness, purpose and passion lies in being your own soul mate! My Scandalous Little Rule Book opposes the notion of looking outward for fulfillment and argues that we need to start looking inward. We don't need to find our soul mate; we need to be our own soul mate – a critical key message for this book.

My Scandalous Little Rule Book inspires readers to embark on the journey of self-trust, embrace opportunities fearlessly, reject conformity and start living an exciting, adventurous life.
About the Author
Jacquie Somerville isn't your typical motivator, author, or speaker. A born storyteller and a self-titled "normalphobe," she probably will shock you and make you laugh. Jacquie impacts her audiences by drawing on a lifetime of challenging and rewarding experiences—a lifetime of pushing the envelope, taking big risks and challenging the status quo. She's been married a few times, immigrated twice, been fat, slim, broke, rich, and followed her gut to a life of excitement, adventure, passion and purpose.

Jacquie's fearless approach to life and zeal for inspiring others to take action is grounded in a wonderfully diverse background, ranging from a successful career in corporate marketing and sales, to a degree in agriculture, to time in front of the camera as a main character on a reality TV show.

An in-demand motivational guru, Jacquie has studied self-development in earnest for the past fifteen years, and has had the privilege of being mentored by some of the biggest names in the self-development world, including Brendon Burchard, Bob Proctor through his Matrixx program and Tony Robbins via Mastery University. Jacquie is also the CEO, personality, and creative force behind Jacquie Somerville Enterprises, LLC, a boutique self-development umbrella company for her keynote speech engagements, her banner "Be Your Own Soul Mate" online video program, her weekly "Jacquie Straight Up" inspirational video broadcast, as well as her books.

Jacquie's first published book, My Fat Little Rule Book is a fun take on diet and exercise, while My Scandalous Little Rule Book is a definitive guide to risk-taking and embracing uncertainty.

Jacquie was born in South Africa, immigrated to Canada alone in 1992, and now resides in Los Angeles, California. To find out more visit www.jacquiesomerville.com.
or
Not Currently Available for Direct Purchase