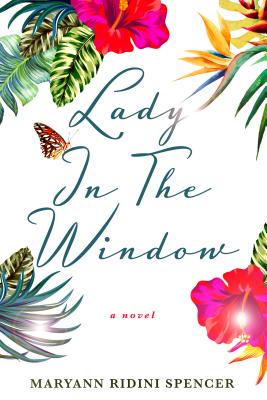 Lady in the Window (Hardcover)
SelectBooks, 9781590794074, 320pp.
Publication Date: May 9, 2017
* Individual store prices may vary.
Description
Pretty Kate Grace, 30, is a successful, respected lifestyle writer for the popular New York View Magazine. She has everything she could want — a loving family, a marriage-bound relationship with a handsome real estate developer, and great friends. Life gets even better when she is given the plum writing assignment of interviewing top talk show host, TV producer and philanthropist, Olivia Larkin, a 40-year-old black woman who has successfully navigated the glass ceiling creating her own dynamic life. However, when Kate takes her first trip to Kauai to interview Olivia in her seaside Princeville estate on the Garden Isle of Kauai, little does Kate know that this trip is part of divine providence's plan. For when Kate arrives back in New York, her life takes an immediate downward spiral. The man she has dated for five years tells her that the marriage they have talked about and believed in, will never be. Then, just as Kate is about to emerge from this traumatic loss, she suffers another, the death of her dear mother. As these unforeseen, life-altering events disrupt Kate's raison d'etre and life, as she has known it, her new friend Olivia comes to the rescue, offering her respite as her guest in a seaside garden cottage rental in the ancient, magical paradise that is Hanalei, Kauai.

The angelical "otherworldly" occurrences that begin to transpire are too synchronistic and too poignant for Kate to ignore. Kate believes, somehow, that her mother's death bed promise to her, to help guide Kate find her way in this life, is indeed the answer to these mystical occurrences. As a result, Kate begins to look at her choices and the world differently. Allowing life to unfold naturally, close to nature, and with a new perspective proves to ignite both Kate's spirituality and creativity. It also aligns Kate to meet her true soul mate, Kai, a young Emergency Room doctor with a passion for nature and gardening, who has also suffered his own share of disappointments as well as the heartbreak of losing his mother in a tragic accident that has caused a family riff. Together, with Olivia's friendship, and a little divine "motherly" direction from above, both Kate and Kai help themselves and their families to heal, and in the process rediscover all the beauty and joy that life, love, and Ohana ("family") has to hold.
About the Author
Maryann Ridini Spencer is an award-winning screenwriter, producer, author, journalist, TV host, and president of Ridini Entertainment Corporation, a Content Creation, Public Relations, Marketing, and TV/Film Production Company. A winner of several scholarships, she received her degree in communications from New York's Hofstra University and soon afterward became a producer/writer for Cable News Network in Los Angeles, later serving as senior vice president at several Hollywood studios and firms. A member of the Producers Guild of America and the Writer's Guild West, Maryann has produced movies and series for such networks as Showtime, SyFy, TMC, USA Networks, Time Warner Cable, and the foreign theatrical market. She is celebrated for co-producing and writing the teleplay for the Hallmark Hall of Fame CBS-TV World Premiere of The Lost Valentine (based on the novel by James Michael Pratt) starring Betty White and Jennifer Love Hewitt. Upon its CBS-TV debut in 2011, the award-winning film was the evening's highest-rated film, with over fifteen million people tuning in, and it became Hallmark Hall of Fame's highest-rated film in four years. Now considered a Hallmark Classic, the film airs each year on the Hallmark Channel and is part of Hallmark's Gold Crown DVD Collector's Edition. Maryann is also the creator, writer, producer, and host of the award-winning healthy living TV cooking series (and cookbook), Simply Delicious Living with Maryann®. Broadcast on the PBS-TV station KVCR in Southern California, the series is also seen on DirecTV, Dish Network, and to a global audience on Roku (Simply Delicious Living Channel), YouTube, and Maryann's award-winning Simply Delicious Living blog at MaryannRidiniSpencer.com. Throughout her career, Maryann has worked as a freelance writer (or contributing editor) for such publications as Los Angeles Magazine, Palm Springs Life, and Desert Magazine. Her "Simply Delicious Living" print and video column as well as "Sustainable Ventura" the environmental news program she created, produces, writes, and reports, is broadcast on local television in Ventura County CA, and on the news and lifestyle pages at Ventura County Star (Search: Simply Delicious or Sustainable Ventura) at vcstar.com. Maryann lies with her husband, Dr. Christopher Scott Spencer, between Southern California and Hawaii. She is currently working on the third book in the Kate Grace series, Secrets of Grace Manor.
Praise For Lady in the Window…
"Grab your beach towel, a passion fruit ice tea, and Maryann Ridini Spencer's Lady in the Window for an afternoon of magic, mystery, and tropical romance. Afterward, you'll be searching the Internet for Kauai real estate." — Suzy Spencer, author of Secret Sex Lives: A Year on the Fringes of American Sexuality
"Maryann Ridini Spencer lends her talented pen to a sweeping tale that is sure to involve the heart." — Debbie Macomber, #1 New York Times best-selling author 
"Lady in the Window is an inspiring and inspirational story; a perfect remedy for the stresses we all experience, and as soothing as an ocean sunset. Maryann Ridini Spencer writes beautifully with great insight into the human heart. This is a story that will stay with you for a long time." — Nelson Demille, #1 New York Times best-selling author