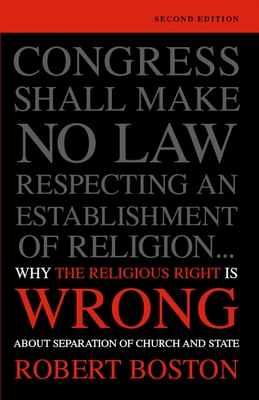 Why the Religious Right Is Wrong About Separation of Church and State (Paperback)
Prometheus Books, 9781591021148, 281pp.
Publication Date: July 1, 2003
* Individual store prices may vary.
Description
Award-winning journalist Robert Boston lambastes the zealots of the Religious Right for spreading misinformation about the constitutional principle of the separation of church and state. Boston reveals how a band of ultraconservative religious groups with a political agenda - led primarily by televangelist Pat Robertson - is conducting a systematic war aginst the separation of church and state. The tactics of these groups are designed to exploit unfounded fears and turn the American people against the separationist principle. They will not rest, Boston says, until the United States has become a theocracy.

To expose the Religious Right's blatant distortions of U.S. history and correct its skewed analysis of legal rulings, Boston objectively reviews the evolution of church/state relations in the United States and looks at how the separation principle has been applied by the courts. He also examines efforts by sectarian groups to win government support for their schools, the school prayer issue, the history of the free exercise of religion, and the controversial role of religion in the public square.

Published in cooperation with Americans United for the Separation of Church and State
About the Author
Robert Boston is the director of communications for Americans United for Separation of Church and State and the editor of Church & State magazine. He is the author of Taking Liberties, Why the Religious Right Is Wrong about Separation of Church and State, Close Encounters with the Religious Right, and The Most Dangerous Man in America? Pat Robertson and the Rise of the Christian Coalition. He is also a frequent contributor to The Humanist, and his articles have appeared in Free Inquiry, The Skeptical Inquirer, Conscience, and other publications.
or
Not Currently Available for Direct Purchase