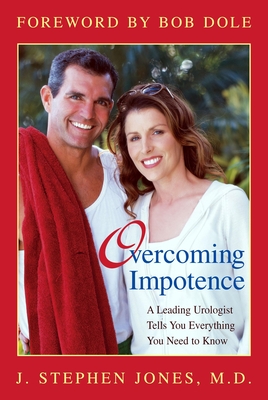 Overcoming Impotence: A Leading Urologist Tells You Everything You Need to Know (Paperback)
A Leading Urologist Tells You Everything You Need to Know
Prometheus Books, 9781591021285, 318pp.
Publication Date: November 1, 2003
* Individual store prices may vary.
or
Not Currently Available for Direct Purchase
Description
Thirty million men suffer from some form of erectile dysfunction, according to recent estimates. While literature on the problem has been available for decades, generally it takes the form of dry textbooks written in "medicalese." Overcoming Impotence is, in contrast, user-friendly, emotionally supportive, and extremely informative. Writing in straightforward layman's terms Dr. J. Stephen Jones, a leading urologist, addresses the serious questions that men or their significant others may have about an increasingly common condition.
Dr. Jones says at the outset to the reader that he is not alone in experiencing these problems - he has plenty of company! He discusses normal patterns of sexual arousal and activity, explains how physicians diagnose and identify the causes of impotence, and tells men what they should expect at the urologist's office.
Next Dr. Jones reviews a full range of treatments, from lifestyle changes, through the latest information on the benefits and side effects of Viagra, to penile injection therapy, vascular surgery, penile prosthetics, and psychotherapy. He emphasizes that each man may make a different choice for his individual needs, and he concludes with a look at upcoming drugs that are now being developed.
Complete with an appendix of additional resources (organizations, support groups, educational material, and web sites) and a glossary of medical terms, this engaging, down-to-earth guide is an all-in-one resource giving men everything they need to know about a serious though very treatable medical problem.
About the Author
J. Stephen Jones, M.D., F.A.C.S. (Cleveland, OH), is a board-certified urologist at the Cleveland Clinic Foundation Urological Institute - named one of the top two urology programs in the country. He is the medical editor of Urology News and has published numerous scientific publications in Urology, The Journal of Urology, Prostate Cancer and Prostatic Disease, and other medical journals.
Advertisement