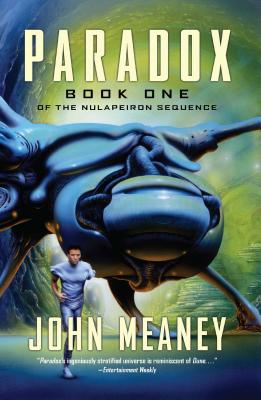 Paradox
Book I of the Nulapeiron Sequence
Hardcover

* Individual store prices may vary.
Other Editions of This Title:
Paperback (5/2/2006)
Description
Centuries of self-imposed isolation have transformed Nulapeiron into a world unlike any other - a world of vast subterranean cities maintained by extraordinary organic technologies. For the majority of its peoples, however such wonders have little meaning. Denied their democratic rights and restricted to the impoverished lower levels, they are subjected to the brutal law of the Logic Lords and the Oracles, supra-human beings whose ability to truecast the future maintains the status quo. But all this is about to change. In a crowded marketplace a mysterious, beautiful woman is brutally cut down by a militia squad's graser fire. Amongst the horrified onlookers is young Tom Corcorigan. He recognizes her. Only the previous day she had presented him with a small, seemingly insignificant info-crystal. And only now, as the fire in the dying stranger's obsidian eyes fades, does he comprehend who - or what - she really was: a figure from legend, one of the fabled Pilots. What Tom has still to discover is that his crystal holds the key to understanding mu-space, and so to freedom itself. He doesn't know it yet, but he has been given a destiny to fulfill - nothing less than the rewriting of his future, and that of his world... Spectacularly staged, thrillingly written and set in a visionary future, Paradox places John Meaney at the forefront of science fiction in this new century.
Pyr, 9781591023081, 492pp.
Publication Date: March 11, 2005
About the Author
John Meaney is the author of four novels - To Hold Infinity, Paradox, Context, and Resolution, the latter three titles constituting the Nulapeiron Sequence. He also has numerous short fiction publication credits. His novelette "Sharp Tang" was shortlisted for the British Science Fiction Association Award in 1995, and To Hold Infinity and Paradox were on the BSFA shortlists for Best Novel in 1999 and 2001 respectively. His novella "The Whisper of Disks" was included in the 2003 Years Best Science Fiction: Twentieth Annual Collection. The Times called John Meaney "The first important new SF writer of the 21st century." Meaney has a degree in physics and computer science, and holds a black belt in Shotokan Karate. He lives in Kent. More on John Meaney can be found at: johnmeaney.tripod.com
or
Not Currently Available for Direct Purchase