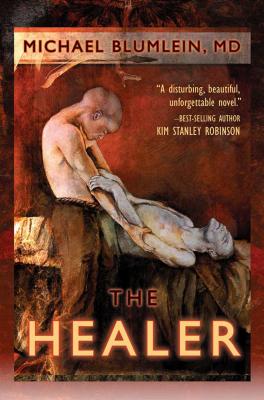 The Healer
Hardcover

* Individual store prices may vary.
Description
Payne is a member of a minority offshoot of humanity called Grotesques, or Tesques, who are distinguished by a cranial deformity and an extra orifice in their chest. A small percentage of Tesques have the ability to effect phenomenal healings, which makes them a valuable commodity in their world. Sadly, such gifted healers live a life somewhere between that of a possession and a slave. Payne is unusual in that he is seemingly unaffected by the mysterious burn out (called "The Drain") that all other healers experience. The novel follows his journey across the strange landscape of his world in a search for an acceptance he may never find. Along the way, we move from the outskirts of society, to an isolated mining camp, to a metropolis dedicated to gambling and vice, to a secret government compound where the most dangerous of healings are performed. Finally, we climax in a scene where reality meets mythology, and Payne experiences a transformation that will forever alter the balance between Tesques and Humans. Blumlein brings his experience as a practicing physician to bear in this novel, which subtly and beautifully examines the ways in which society both reveres and fears members of the medical profession. The Healer is a story of human life and death, human rites and rituals, seen through the eyes of an outsider, one who knows humans better, perhaps, than they know themselves. In the vein of such authors as Jonathan Lethem and Jonathan Carroll, The Healer is literate, philosophical, entertaining, moving and original.
Pyr, 9781591023142, 376pp.
Publication Date: July 1, 2005
About the Author
Michael Blumlein is the author ofThe Movement of Mountains (St. Martin's Press, 1987) and X,Y (Dell, 1993), as well as the award-winning story collection The Brains of Rats (Scream Press, 1990, re-released by Dell in 1997). A frequent contributor to the Magazine of Fantasy and Science Fiction and Interzone, his short stories have been anthologized many times, including several appearances in the prestigious The Year's Best Fantasy and Horror Annual Collection and The Year's Best Science Fiction. He has been nominated twice for the World Fantasy Award and twice for the Bram Stoker Award. He has written for the stage and for film. His novel X,Y was recently made into a movie. In addition to writing, Dr. Blumlein practices and teaches medicine at the University of California at San Francisco. Visit him online atwww.michaelblumlein.com/.
or
Not Currently Available for Direct Purchase