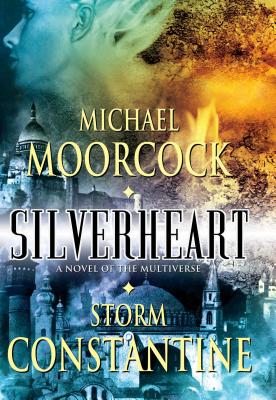 Silverheart
Hardcover

* Individual store prices may vary.
Description
This is a novel set at the very heart of Michael Moorcock's multiverse, in Karadur, city of metal, steam, and ancient families, the mighty clans of the metal. In six days, Max Silverskin, thief and trickster, must discover the secrets of his heritage or die from the witch mark – the silverheart – which will devour his heart. Lady Rose Iron, daughter of the leader of the powerful Clan Iron is thrown into an edgy alliance with Max as she searches for the secrets that could save the city's future. Captain Cornelius Coffin, head of the clans' security forces, is in love with Lady Rose and obsessed with capturing Max. And there are others, in Shriltasi, Karadur's underworld twin, who know the prophecy which says that only Max Silverskin can save both realms. In Silverheart, Michael Moorcock and Storm Constantine have combined their talents to produce a novel that is both surreal and gothic.
Pyr, 9781591023364, 485pp.
Publication Date: September 6, 2005
About the Author
Born in 1939, Michael Moorcock is a highly respected author who has won many awards over his prolific career. His novella Behold the Man won the Nebula Award. He is also the recipient of the World Fantasy Award and the British Fantasy Award, among others. Currently he resides in Texas, with wife, Linda. Storm Constantine has written over twenty books, both fiction and nonfiction, and well over fifty short stories. Her novels span several genres, from literary fantasy, to science fiction, to dark fantasy. She is most well known for her Wraeththu trilogy (omnibus edition published by Tor) and has recently completed a new set of novels set in the world of Wraeththu, concluding with The Ghosts of Blood and Innocence (Tor, 2005, USA; Immanion Press, 2005, UK). Storm is also cofounder of the small publishing house Immanion Press, created in order to get classic titles from established writers back in print and innovative new authors an audience. She's currently working on several ideas for new books, as well as reading and editing a far too large pile of manuscripts for other writers. She lives in the Midlands of England, with her husband, Jim, and eight cats.
or
Not Currently Available for Direct Purchase