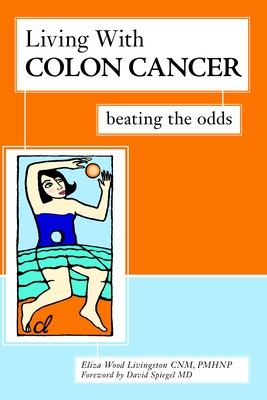 Living With Colon Cancer (Paperback)
Beating the Odds
Prometheus Books, 9781591023470, 352pp.
Publication Date: September 6, 2005
* Individual store prices may vary.
Description
Despite the efforts of Katie Couric to draw attention to the importance of colonoscopy screening for the detection of colon cancer, this cancer still does not receive the publicity devoted to breast, lung, and prostate cancer. Yet colorectal cancer is the third most common malignancy in the world and is the second leading cause of death from cancer next to lung cancer. As a result of the silence surrounding this disease, colon cancer patients and their families can feel isolated, without the support and information networks available to those coping with more publicized illnesses.
In this helpful and inspiring book, Eliza Wood Livingston provides a wealth of practical information about colon cancer while telling of her own heroic battle against this challenging disease and her survival after a bleak diagnosis. Designed to provide both vital information and emotional support, Livingston's story will help anyone faced with the difficult ordeals of surgery, chemotherapy, colostomy, and the emotional roller coaster that patients often experience. At every stage of facing these challenging hurdles, she describes to readers what they can expect, guides them to be their own advocates and ask the right questions of medical personnel, and effectively conveys the comforting message that they need never feel alone. A very reader-friendly text, with many useful sidebars highlighting important points, makes this accessible book easy to follow for average readers.
Livingston points out that while society seems more willing to recognize and openly discuss other life-threatening illnesses, a sense of shame and secrecy persists regarding colorectal cancer. Her personal story of courage and complete candidness about her condition go a long way toward dispelling the fear and embarrassment often associated with colon cancer. Most important, she gives fellow patients and their families hope that they too can triumph over this serious disease.
About the Author
Eliza Wood Livingston (Santa Cruz, CA) worked as a Certified Nurse Midwife on the obstetrical staff at Kaiser Santa Teresa Medical Center in San Jose, California, prior to her cancer diagnosis in 1996. A resident of Santa Cruz, California, she spends substantial time in Victoria, British Columbia, where she is the proprietor of the Villa Marco Polo (www.villamarcopolo.com), a Five-Star Canada Select bed and breakfast inn.
Praise For Living With Colon Cancer: Beating the Odds…
"This book is remarkable for its authenticity and immediacy in conveying the experience of living with cancer....[F]or anyone debating whether to have a screening, and for anyone attempting to persuade a loved one to have one, this book is required reading."
Science Books & Films
"Designed to provide both vital information and emotional support, Livingston's story will help anyone faced with the difficult ordeals of surgery, chemotherapy, colostomy, and the emotional roller coaster that patients often experience…a very reader-friendly text…she gives fellow patients and their families hope that they too can triumph over this serious disease."
- HealthNewsDigest.com
"This deeply personal story, exceptionally well told, has a message in it for anyone dealing with any kind of cancer diagnosis; either their own or that of a loved one. Ms. Livingston's book is useful, candid, moving, courageous and inspiring. All of us one day, to some degree, must leave the land of the well and enter the land of the sick. Living with Colon Cancer: Beating the Odds is a terrifically readable guidebook to the emotional as well the practical issues one meets on that journey."
Laura Ziskin, cancer survivor and motion picture producer
(Pretty Woman; Spider-Man; Spider-Man 2, etc.)
or
Not Currently Available for Direct Purchase