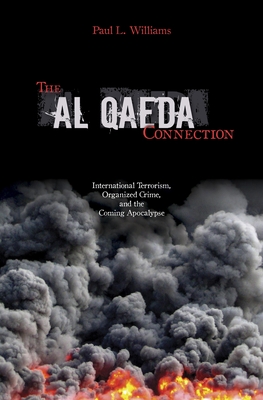 The Al Qaeda Connection: International Terrorism, Organized Crime, and the Coming Apocalypse (Hardcover)
International Terrorism, Organized Crime, and the Coming Apocalypse
Prometheus Books, 9781591023494, 280pp.
Publication Date: September 1, 2005
* Individual store prices may vary.
or
Not Currently Available for Direct Purchase
Description
The author reveals persuasive evidence that al Qaeda has now established connections with the Sicilian Mafia, which is helping to finance terrorism through the sale of heroin. In addition, through its ties to the Chechen Mafia, the group responsible for the heinous attack on a Russian school, al Qaeda has managed to obtain nuclear weapons from poorly secured and carelessly guarded storehouses in Russia. Perhaps the most disturbing evidence uncovered by Williams is the relation of al Qaeda to an obscure Salvadoran street gang, which calls itself Mara Salvatrucha and has expanded exponentially.
No other book deals with the connection between international, extremist Islamic terrorism and organized crime--a connection that has made possible the establishment of a well-financed branch of al Qaeda in Latin America and the creation of terrorist cells in major metropolitan areas throughout the United States.
About the Author
Paul L. Williams is a journalist and the author of The Day of Islam, Osama's Revenge, The Al Qaeda Connection, and The Vatican Exposed, among other books. The winner of three first-place Keystone Press Awards for journalism, he has written articles for such news outlets as Newsmax, World Net Daily, Family Security Matters, and the National Review. He has also served as a consultant for the FBI, editor and publisher of the Metro (Scranton, PA), and adjunct professor of humanities at the University of Scranton.
Praise For The Al Qaeda Connection: International Terrorism, Organized Crime, and the Coming Apocalypse…
"While Congress sticks its collective heads in holes and mainstream media does its usual penguin walk, the mushroom clouds of nuclear terror grow more defined on our horizon. Dr. Paul L. Williams is one of a precious few investigative journalists with the real facts and the courage to sound the alarm . . . before it is too late. This is a MUST read for every American."
Michael Levine, retired DEA agent
Author of New York Times bestseller Deep Cover,
and the host of New York City's Expert Witness radio show

"Nothing is more dangerous for America - or the world - than the alliance between international terrorism and organized crime. By calling attention to this linkage, Paul L. Williams has, once again, shown himself to be a national resource in the battle against Osama and his henchmen."
Neil J. Kressel, Ph.D.
Author of Mass Hate: The Global Rise of Genocide and Terror
Advertisement