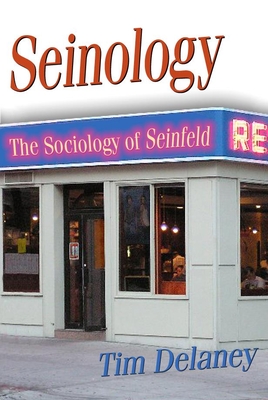 Seinology
The Sociology of Seinfeld
Paperback

* Individual store prices may vary.
Description
Sociologist and avid Seinfeld fan, Tim Delaney explores what sociologists and all interested readers can learn about themselves and their society from this tremendously popular sitcom. His work represents a fascinating blend of popular and contemporary culture with the keen observations of a scholar trained to assess social behavior. Delaney uses excerpts from many of the now-classic episodes to illustrate key facets of social interaction. In fifteen chapters, amusingly titled after some of the show's famous incidents, he reviews what its characters teach us about ourselves and the complex society in which we live.

Fans of Seinfeld will enjoy reliving their fondest memories associated with each episode. Students and laypersons alike will learn basic sociological concepts and theories in this jargonfree work. Seinology provides Seinfeld fans an opportunity to view this brilliant television show through the sociologist's well-trained eye.
Praise For Seinology: The Sociology of Seinfeld…
"Delaney offers a unique and entertaining look at many sociologically relevant social topics covered in the popular Seinfeld television sitcom....the book has a number of strengths....[he] does such an excellent job describing each segment, including giving the necessary background information, that even students who are unfamiliar with the show could easily follow along....the book is written in a very clear, understandable, and down-to-earth style that would most likely be a welcome relief for most students from the standard textbook format....finally, the book and its many Seinfeld examples are entertaining. At various points while reading I found myself laughing out loud....it would probably be extremely useful for popular culture, media and society, and similar courses."
Teaching Sociology
Journal of the American Sociological Association

"This book is an engaging and entertaining way to learn basic sociological concepts and perspectives. Tim knows his sociology and knows his Seinfeld. He writes in a jargon-free, reader-friendly style, whether the reader is a student in an introductory sociology course, an advanced sociology student, or just a fan of Seinfeld. Tim is truly master of his domain. No yadda-yadda here. You'll be amazed at what Seinfeld and Delaney can teach you about work, gender, sex, crime, family, religion, sports, aging, and death. I recommend this book to everyone interested in painlessly learning more about the sociologist's take on life."
Norm Weiner
Distinguished Service Professor of Sociology
State University of New York at Oswego

"Delaney takes a brilliant approach to understanding sociology, one that students will both enjoy and understand. Through episodes of Seinfeld, Delaney illustrates sociology to the reader that any audience can identify with. Pairing sociological concepts with Seinfeld's humor he creates Seinology. In doing this Tim Delaney takes us through the major fields in the discipline providing real examples of how sociology can be seen in daily activities. This book would make an excellent reader for any introduction to sociology or media class."
Cherylynn Bassani, Ph.D.
Researcher and Instructor
University of British Columbia
Prometheus Books, 9781591023951, 304pp.
Publication Date: March 1, 2006
About the Author
Tim Delaney is assistant professor of sociology at the State University of New York at Oswego.