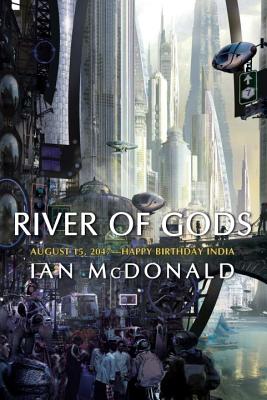 River of Gods
Hardcover

* Individual store prices may vary.
Description
As Mother India approaches her centenary, nine people are going about their business a gangster, a cop, his wife, a politician, a stand-up comic, a set designer, a journalist, a scientist, and a dropout. And so is Aj the waif, the mind-reader, the prophet when she one day finds a man who wants to stay hidden.
In the next few weeks, they will all be swept together to decide the fate of the nation.
River of Gods teems with the life of a country choked with peoples and cultures one and a half billion people, twelve semi-independent nations, nine million gods. Ian McDonald has written the great Indian novel of the new millennium, in which a war is fought, a love betrayed, a message from a different world decoded, as the great river Ganges flows on.
Pyr, 9781591024361, 599pp.
Publication Date: March 1, 2006
About the Author
Ian McDonaldis the author of"Planesrunner, Be My Enemy," and"Empress of the Sun," in the Everness series. He has written thirteen science fiction novels--including the 2011 John W. Campbell Memorial Award winner for Best Novel, "The Dervish House"--as well as"Brasyl, River of Gods, Cyberabad Days, Ares Express, Desolation Road, King of Morning, Queen of Day, Out on Blue Six, Chaga," and"Kirinya."He's been nominated for every major science fiction award, and even won some. McDonald also works in television and in program development--all those reality shows have to come from somewhere--and has written for screen as well as print. He lives in Northern Ireland, just outside Belfast, and loves to travel."
or
Not Currently Available for Direct Purchase