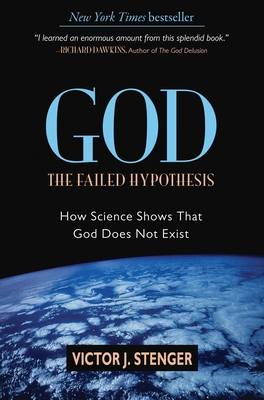 God (Hardcover)
The Failed Hypothesis: How Science Shows That God Does Not Exist
Prometheus Books, 9781591024811, 287pp.
Publication Date: January 2, 2007
* Individual store prices may vary.
Description
Throughout history, arguments for and against the existence of God have been largely confined to philosophy and theology, while science has sat on the sidelines. Despite the fact that science has revolutionized every aspect of human life and greatly clarified our understanding of the world, somehow the notion has arisen that it has nothing to say about the possibility of a supreme being, which much of humanity worships as the source of all reality. This physicist and author contends that, if God exists, some evidence for this existence should be detectable by scientific means, especially considering the central role that God is alleged to play in the operation of the universe and the lives of humans. Treating the traditional God concept, as conventionally presented in the Judeo-Christian and Islamic traditions, like any other scientific hypothesis, Stenger examines all of the claims made for God's existence. He considers the latest Intelligent Design arguments as evidence of God's influence in biology. He looks at human behavior for evidence of immaterial souls and the possible effects of prayer. He discusses the findings of physics and astronomy in weighing the suggestions that the universe is the work of a creator and that humans are God's special creation. After evaluating all the scientific evidence, Stenger concludes that beyond a reasonable doubt the universe and life appear exactly as we might expect if there were no God.
About the Author
Victor J. Stenger (1935 - 2014) was an adjunct professor of philosophy at the University of Colorado and emeritus professor of physics and astronomy at the University of Hawaii. He was the author of the New York Times bestseller God: The Failed Hypothesis, God and the Atom, God and the Folly of Faith, The Comprehensible Cosmos, and many other books.
Praise For God: The Failed Hypothesis: How Science Shows That God Does Not Exist…
"I learned an enormous amount from this splendid book."
-Richard Dawkins, author of the New York Times bestseller The God Delusion

"Marshalling converging arguments from physics, astronomy, biology, and philosophy, Stenger has delivered a masterful blow in defense of reason. God: The Failed Hypothesis is a potent, readable, and well-timed assault upon religious delusion. It should be widely read."
-Sam Harris, author of the New York Times bestsellers The End of Faith and Letter to a Christian Nation

"Extremely tough and impressive...a great book...a huge addition to the arsenal of argument."
-Christopher Hitchens, author of the New York Times bestseller God Is Not Great