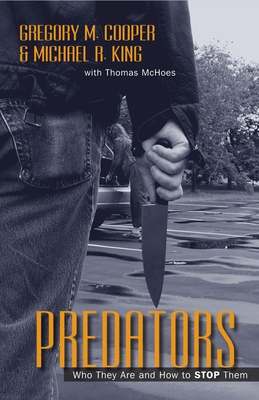 Predators: Who They Are and How to Stop Them (Hardcover)
Who They Are and How to Stop Them
Prometheus Books, 9781591025061, 323pp.
Publication Date: May 1, 2007
* Individual store prices may vary.
or
Not Currently Available for Direct Purchase
Description
An inmate, incarcerated for the rape of seventy-five women, reveals in an interview that if his victims had simply put a pair of old construction boots at the front door, he would have passed by and never even considered them as potential targets. The grieving father of a murdered seventeen-year-old woman admits that he should have been more involved in his daughter's life and paid attention to the "friends" in her immediate circle. Most of us only half-listen to the public service announcements about safety in the home. We lock our doors at night, but do little else to change habits that may make us the next victims of the dangerous individuals who are always on the watch for their next opportunity. This book takes readers through the mindset of predatory criminals -- their motives, various plans of attack, and way of thinking -- and then teaches simple lifestyle techniques that will help reduce the risk of becoming victimized. Criminal behavior specialists Greg Cooper and Mike King provide expert analysis based on real-life cases, in addition to moving insights from victims and criminals themselves. The authors make the point that the people who commit these crimes aren't much different from the predators of the wild, preying on the weak and unsuspecting. What makes these individuals more dangerous than their instinctive wildlife counterparts, however, is that they consciously choose to inflict their will on the more vulnerable members of their own species. To protect our loved ones and ourselves requires that we truly educate ourselves about the predators who live in our society and then take appropriate action. This excellent, in-depth study will help readers lead safer lives.
About the Author
Gregory M. Cooper (American Fork, UT) is the owner/president of Cooper Enterprises, where he provides services as an international trainer, consultant, expert witness, and author, serving the law enforcement, legal, corporate, and educational communities. Formerly, he worked as an investigative support services manager for Motorola Inc.; as Assistant Federal Security Director for Law Enforcement, U.S. Department of Homeland Security; as the police chief of Provo, Utah; and as a unit chief and criminal profiler for the FBI. Michael R. King (Ogden, UT) is the training director for the Management & Training Corporation, an international company operating state and federal prisons around the world. Formerly, he was a senior investigative analyst and product planning manager for Motorola. He is also a former State Attorney General Chief of Staff and intelligence supervisor for the Utah Criminal Intelligence Center. Tom McHoes (Springville, UT) is a freelance journalist who was previously a crime/investigative reporter for the Provo Daily Herald and The Roseville Press-Tribune.
Praise For Predators: Who They Are and How to Stop Them…
"In an absolutely riveting manner, criminal behavior specialists Cooper and King delve into the mind-sets of predatory criminals and suggest simple lifestyle techniques to help reduce the risk of victimization....while readers may get knots in their stomachs, they are bound to find information that will help them live safer lives. Highly recommended for all libraries."
LIBRARY JOURNAL

"This is a landmark book. It is powerful and compelling as well as practical. [The authors] draw on an extensive background in profiling to dissect the world of the predator and show us how to stop them. Deserves a place on everyone's bookshelf. It is a must read."
ANN WOLBERT BURGESS
Professor of Psychiatric Nursing, Boston College
Advertisement