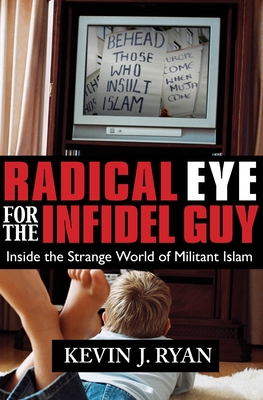 Radical Eye for the Infidel Guy (Hardcover)
Inside the Strange World of Militant Islam
Prometheus Books, 9781591025078, 272pp.
Publication Date: March 6, 2007
* Individual store prices may vary.
Description
Are you tired of hearing that Islam is a religion of peace while terrorist plots are uncovered, beheadings of prisoners are broadcast on the Internet, and carnage in Iraq has become routine? Are you fed up with the politically correct whitewashing of the obviously grim realities of radical Islam? Kevin J. Ryan uses sardonic humor and a streak of radical irreverence to expose Islamist ideology for what it really is and to help you develop your own Radical Eye.

Combining the debunking zeal of Thomas Paine's Age of Reason with Mad magazine's irreverent view of history and politics, Ryan has written the most politically incorrect — and funniest — book on radical Islam that you're ever likely to read.
About the Author
Kevin Ryan has spent nearly twenty years as an editor and writer of movie and television tie-in books. He is the author of ten books, including the nationally best-selling novelization of the feature film Van Helsing and the critically acclaimed Star Trek trilogy, Errand of Vengeance. He can be reached at theradicaleye.com.
Praise For Radical Eye for the Infidel Guy: Inside the Strange World of Militant Islam…
"Kevin Ryan manages to pull off the impossible: he tells the truth about Islam and Sharia while keeping a light, humorous touch. Gallows humor, sure, but it packs a punch: this book will go a long way toward waking up sleeping infidels to the magnitude of the problem we face."
Robert Spencer
Author of the New York Times best sellers
The Truth About Muhammad and The Politically Incorrect Guide to Islam (and the Crusades)

"It takes considerable courage to write anything remotely critical of Islam. It takes even greater courage to write anything satirical or humorous about a religion that has no sense of irony, as the Danish cartoon affair recently reminded us. Hence Kevin Ryan's irreverent and hilarious look at Islam is doubly welcome, though the humor should not blind us to the underlying grim reality that Mr Ryan documents so well."
Ibn Warraq
Author of Why I Am Not a Muslim and many other books
or
Not Currently Available for Direct Purchase