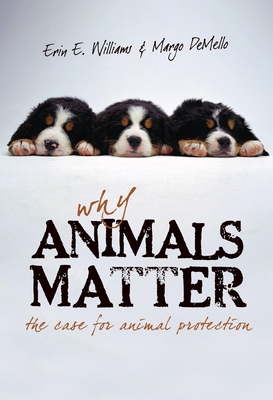 Why Animals Matter (Paperback)
The Case for Animal Protection
Prometheus Books, 9781591025238, 397pp.
Publication Date: June 5, 2007
* Individual store prices may vary.
Description
This is a concise yet complete overview of the problems of animal suffering, linking them to larger issues of human and environmental exploitation. Authors Erin E. Williams and Margo DeMello examine industries that exploit animals — meat processing companies and agribusinesses; medical experimentation and cosmetic testing facilities; the entertainment industry (circuses, rodeos, zoos, racing, and film making); the pet industry; the fur and leather industry; and commercial and recreational activities centered on hunting. The authors also consider the adverse environmental effects of animal exploitation from pollution to deforestation and the depletion of biodiversity.

In addition, they look at the connections between the poor treatment of animals and human exploitation of immigrants, slaughterhouse and farm workers, as well as the larger issues of globalization, hunger, and the negative consequences for Third World nations.

Highly informative yet very reader-friendly, this book not only explores the connections between animal and human suffering, but also integrates solid information with positive case studies of rescued animals and inspiring stories of individual successes.
About the Author
Erin E. Williams (Silver Spring, MD) works for the Humane Society of the United States.
Margo DeMello (Placitas, NM) is a lecturer at Central New Mexico Community College, administrative director of the House Rabbit Society, and the author of Bodies of Adornment, Bodies of Inscription, Low-Carb Vegetarian, and Stories Rabbits Tell.
Praise For Why Animals Matter: The Case for Animal Protection…
"…an excellent look at cruelty to animals on an institutional level in various industries, taking a 'common sense perspective' and revealing many disturbing facts .... This is a tough but fair-minded revelation of how mass production of animals for food and other purposes results in cruelty that usually remains hidden from sight."
Publishers Weekly

"Erin Williams and Margo DeMello have written a compact and compelling treatise on how animals suffer in institutional settings and why people of conscience should take note and take action. They have put together an overwhelming case for a new ethic in dealing with animals, and my greatest hope is that it will have a vast readership."
Wayne Pacelle
President & CEO
The Humane Society of the United States
or
Not Currently Available for Direct Purchase