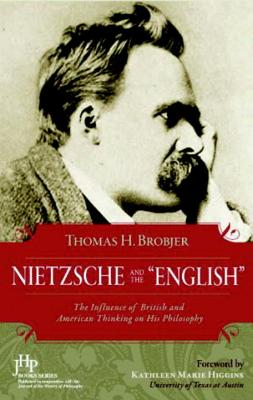 Nietzsche and the "English": The Influence of British and American Thinking on His Philosophy (Paperback)
The Influence of British and American Thinking on His Philosophy
Humanity Books, 9781591025474, 474pp.
Publication Date: January 1, 2008
* Individual store prices may vary.
or
Not Currently Available for Direct Purchase
Description
Friedrich Nietzsche--one of the most read and discussed philosophers of all time--is frequently regarded as a quintessentially German philosopher, yet one who had strong anti-German tendencies and late in his development turned increasingly pro-French. However, his relation to British-American thinking and culture has been largely ignored, although its focus on progress, rationality, empiricism, and science constituted a major tradition during the nineteenth century.
This work explores Nietzsche's explicit and implicit relation to this tradition, including utilitarianism, Darwinism, Anglo-American scholarly and scientific work, and culture in general. Based on extensive research in Nietzsche's library and unpublished material in the Goethe-Schiller Archive in Weimar, Germany, historian of science Thomas H. Brobjer demonstrates conclusively that Nietzsche was much more involved with and influenced by -English- philosophy than has previously been realized. His study reveals that Nietzsche passed through two periods of distinctly pro-British sentiment. By examining hundreds of unpublished book-bills, Brobjer is able to reconstruct Nietzsche's possession, and time of acquisition, of British and American books. Tables at the end present detailed chronological and alphabetical listings of Nietzsche's extensive reading of British-American texts.
With thorough and detailed discussions of Nietzsche's comments on and reading of English and American works and themes, Brobjer uncovers a different Nietzsche from the high-strung iconoclastic philosopher usually emphasized, providing many new insights into how Nietzsche thought and worked.
About the Author
Thomas H. Brobjer (Uppsala, Sweden) is a professor in the department of the history of science and ideas at Uppsala University. He has published extensively on Nietzsche's thinking and is the author of Nietzsche's Ethics of Character and Nietzsche's Philosophical Context: An Intellectual Biography, among many other works.
Advertisement