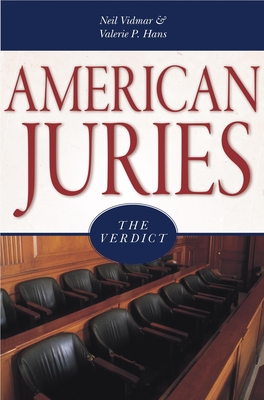 American Juries (Hardcover)
The Verdict
Prometheus Books, 9781591025887, 428pp.
Publication Date: October 31, 2007
* Individual store prices may vary.
Description
Although the right to trial by jury is enshrined in the U.S. Constitution, in recent years both criminal and civil juries have been criticized as incompetent, biased, and irresponsible. For example, the O.J. Simpson criminal jury's verdict produced a racial divide in opinions about that trial. And many Americans still hold strong views about the jury that awarded millions of dollars to a woman who spilled a cup of McDonald's coffee on herself. It's said that there are "judicial hellholes" where local juries provide "jackpot justice" in medical malpractice and product liability cases with corporate defendants. Are these claims valid?
This monumental and comprehensive volume reviews over fifty years of empirical research on civil and criminal juries and returns a verdict that strongly supports the jury system. Rather than relying on anecdotes, Vidmar and Hans—renowned scholars of the jury system—place the jury system in its historical and contemporary context, giving the stories behind important trials while providing fact-based answers to critical questions. How do juries make decisions and how do their verdicts compare to those of trial judges and technical experts? What roles do jury consultants play in influencing trial outcomes? Can juries understand complex expert testimony? Under which circumstances do capital juries decide to sentence a defendant to die? Are juries biased against doctors and big business? Should juries be allowed to give punitive damages? How do juries respond to the insanity defense? Do jurors ignore the law?
Finally, the authors consider various suggestions for improving the way that juries are asked to carry out their duties. After briefly comparing the American jury to its counterparts in other nations, they conclude that our jury system, despite occasional problems, is, on balance, fair and democratic, and should remain an indispensable component of the judicial process for the foreseeable future.
About the Author
Neil Vidmar, PhD, (Durham, NC), is both the Russell M. Robinson II Professor of Law at Duke University School of Law and a professor of psychology at Duke University. He has published over 100 research articles and is the author, coauthor, or editor of four books including Hans and Vidmar's widely acclaimed Judging the Jury, Medical Malpractice and the American Jury, and World Jury Systems.

Valerie P. Hans, PhD (Ithaca, NY), is Professor of Law at Cornell University. She has published more than ninety research papers and articles and is the author, coauthor or editor of five books including Business on Trial; Judging the Jury and The Jury System. She also serves on the editorial boards of major professional journals in the field of law and social science.
Praise For American Juries: The Verdict…
"Hundreds of books have been written on juries…but the strength of this book is its topic-by-topic presentation of research studies. Well suited to ambitious undergraduates and scholars, it is essential for law libraries and academic libraries with strong law, criminal justice, public policy, and social sciences collections." —Library Journal

"This is a well-researched, illuminating body of work that reveals the inner workings of our modern judicial system with clarity and rare understanding…anyone with an interest in juries and American law will enjoy this empirical look past cases and anecdotal evidence." —Monsters and Critics.com

"A highly readable account of the history of this fascinating, unique, and controversial institution—and more important, a sophisticated distillation of the many empirical studies that reveal its true nature and behavior. Anyone who wants to engage seriously in the debates over the jury's social functions, legitimacy, and actual performance must read this book." —Peter H. Schuck, Simeon E. Baldwin Professor, Yale Law School
or
Not Currently Available for Direct Purchase