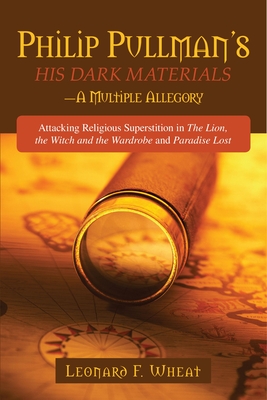 Philp Pullman's His Dark Materials: A Multiple Allegory: Attacking Religious Superstition in the Lion, the Witch and the Wardrobe and Paradise Lost (Paperback)
A Multiple Allegory: Attacking Religious Superstition in the Lion, the Witch and the Wardrobe and Paradise Lost
Prometheus Books, 9781591025894, 338pp.
Publication Date: December 1, 2007
* Individual store prices may vary.
or
Not Currently Available for Direct Purchase
Description
Philip Pullman's His Dark Materials trilogy is one of the most popular fantasy works of our time. Both the trilogy and the movies based on it are being marketed chiefly as YA (young adult) fare. But Leonard F. Wheat shows in this fascinating analysis that His Dark Materials is far more than a YA tale. At a deeper level it is a complex triple allegory--a surface story that uses 231 symbols to tell three hidden stories. As such, it is among the most profound, intellectually challenging, and thoroughly adult works ever written.
Wheat brings the hidden stories to light. He demonstrates how Pullman retells two prominent works of British literature--C. S. Lewis's The Lion, the Witch and the Wardrobe and John Milton's Paradise Lost. Pullman's aim is to counter Lewis's pro-Christian allegory with his own anti-Christian allegory. Pullman does this in his second allegory by turning Paradise Lost upside down. Satan and his daughter, Sin, along with Adam's murderous son Cain, become heroes; God and Jesus become villains. This retold story depicts our society's warfare between knowledge (symbolized by Dust) and religious superstitions (symbolized by Specters). Pullman adds an original third hidden story featuring Christian missionaries, Charles Darwin, agnostics, and atheists.
Wheat's intriguing interpretation of Pullman's work is the first to point out the many allegorical features of His Dark Materials and to highlight the ingenious ways in which Pullman subtly attacks religious institutions and superstitions. Pullman fans as well as readers interested in fantasy or concerned about religious coercion will find Wheat's book not only stimulating but overflowing with surprises.
About the Author
Leonard F. Wheat, a retired economist living in Alexandria, VA, received his PhD from Harvard University in 1958 and is the author of five previous books dealing with economics, film, and religion. His books include Kubrick's 2001: A Triple Allegory and Paul Tillich's Dialectical Humanism: Unmasking the God above God.
Advertisement