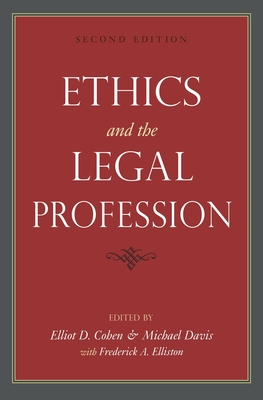 Ethics and the Legal Profession (Paperback)
Prometheus Books, 9781591026211, 438pp.
Publication Date: May 1, 2009
* Individual store prices may vary.
or
Not Currently Available for Direct Purchase
Description
Beneficial for law or philosophy students, or practicing lawyers, Ethics and the Legal Profession includes articles by eminent philosophers and lawyers that explore moral problems in legal practice.

The text is divided into six sections, each dealing with an important issue: The History and Organization of the Profession in the United States; The Moral Critique of Professionalism; The Adversary System; Conflict of Interest and Professional Judgment; Perjury and Confidentiality; and Making Legal Services Available.

Combining in-depth case studies with careful analysis, the editors help students and professionals distinguish between moral and technical judgment, become clearer about the meaning of moral discourse in the workplace, and better appreciate the higher callings of their profession. Raising provocative questions about the rationale and limits of professional responsibility, this text provides insights into the ethics of the legal profession at a time when technology, globalization, and the changing economics of lawyering are reshaping the profession of law in ways still hard to predict.
About the Author
Elliot D. Cohen (Port St. Lucie, FL) is the director of the Institute of Critical Thinking, the editor-in-chief of the International Journal of Applied Philosophy, ethics editor for Free Inquiry magazine, and the author or editor of many books in journalism, professional ethics, and philosophical counseling, including The Last Days of Democracy (with Bruce W. Fraser).

Michael Davis (Chicago, IL) is a professor of philosophy, and a senior fellow at the Center for Study of Ethics in the Professions, at the Illinois Institute of Technology. He is the author or editor of eleven books on various ethical issues, including Profession, Code, and Ethics and the first edition of Ethics and the Legal Profession (with Frederick Elliston).

Frederick A. Elliston, co-editor of the first edition, was teaching philosophy at the University of Hawaii when he was killed in an automobile accident in 1987.
Advertisement