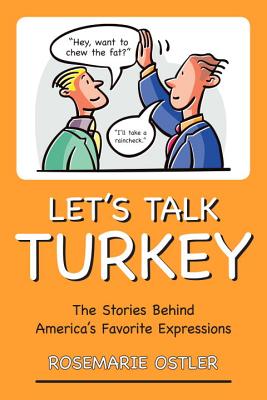 Let's Talk Turkey
The Stories Behind America's Favorite Expressions
Paperback

* Individual store prices may vary.
Description
Ever wonder what going on the wagon has to do with drinking? Why does extreme behavior take the cake? And did Americans' pocket change ever really include wooden nickels? Many of our most intriguing expressions grew out of once-familiar bits of American culture, the roots of which are now obscure. Respected linguist Rosemarie Ostler demystifies over 150 of these colorful homegrown figures of speech. She traces each saying from its first known appearance in print to its place in modern English, uncovering a host of cultural and historical tidbits along the way.

Homegrown metaphors sprang up on American soil almost as fast as the colonists' first bean crop. Just as they learned new farming skills and adjusted to an unfamiliar diet, they shaped their language to fit their new situation. Expressions like to play possum and bury the hatchet are uniquely American — they would hardly have made sense in the old country, where possums didn't exist and where hatchets were used only for splitting firewood. Ostler explains the rich history of figures of speech that grew out of the landscape and culture of North America.

Much more than a list of phrases and definitions, Let's Talk Turkey is a lively and enjoyable exploration of how Americans developed their own inimitable style of speech. Expressions are arranged by cultural categories. These include some of our most bountiful sources for metaphor — the great outdoors, business, entertainment, politics, cops and robbers, food and drink, and doing chores. The thoroughly researched entries reveal the latest etymological discoveries, along with charming and illustrative quotes.

This entertaining, amusing, and very informative reference book is sure to captivate language lovers of all ages, as well as anyone fascinated with the byways and back roads of American lore.
Prometheus Books, 9781591026259, 252pp.
Publication Date: June 1, 2008
About the Author
Rosemarie Ostler, PhD (Eugene, OR), is the author of Dewdroppers, Waldos, and Slackers, an alternate for the Book of the Month Club and Quality Paperback Books, which Publishers Weekly called "a pleasure" and Choice praised as "well documented and entertaining." Her many articles on language have appeared in the Saturday Evening Post, Christian Science Monitor, Verbatim, Whole Earth, and Writer's Digest, among other publications. She holds a doctorate in linguistics, has taught at the University of Iowa, and worked for the New York Public Library.
or
Not Currently Available for Direct Purchase