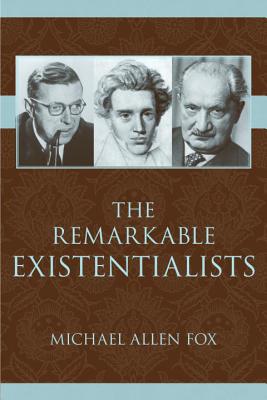 The Remarkable Existentialists (Paperback)
Humanity Books, 9781591026389, 323pp.
Publication Date: December 1, 2008
* Individual store prices may vary.
or
Not Currently Available for Direct Purchase
Description
One of the most original and refreshing approaches to philosophy is existentialism. Although the heyday of this movement spanned the late-nineteenth to mid-twentieth centuries, the themes that existentialist philosophers explored are perennial and they remain central to the experience of contemporary human beings.

Existentialism asserts that the fact of human existence must always be counted as more important than any philosophical theory. Central to existentialist philosophy is human freedom and the responsibility that individuals have for creating their own destinies through an authentic engagement with the reality of their individual selves and the environment that surrounds them.

In this clear, concise guide to existentialism, philosopher Michael Allen Fox carefully defines existentialism, explains how it has evolved, and illuminates its relevance for today. In five major chapters, Fox then summarizes the full range of ideas of the major existentialists: Søren Kierkegaard, Friedrich Nietzsche, Martin Heidegger, Jean-Paul Sartre, and Simone de Beauvoir. He pays special attention to the method and argumentative strategy of these philosophers, how they relate to one another, and how they advance our understanding of core issues in philosophy and in everyday living. Substantial representative passages from each philosopher are reproduced and analyzed. A final chapter critically evaluates existentialism and considers its influence on subsequent movements of thought.

Including discussions of key problems in each thinker's outlook, questions for reflection, and a generous bibliography, this is the most up-to-date general work on the subject available.
About the Author
Michael Allen Fox is professor emeritus of philosophy at Queen's University in Kingston, Ontario, Canada, and adjunct professor of humanities at the University of New England in Armidale, New South Wales, Australia. He is the author of The Accessible Hegel, Deep Vegetarianism, and several other titles.
Advertisement