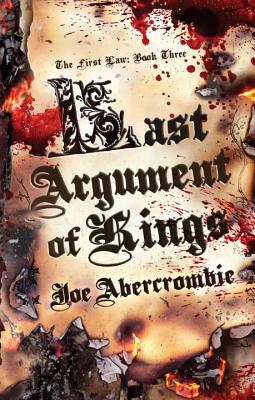 Last Argument of Kings
Paperback

* Individual store prices may vary.
Description
The end is coming.
Logen Ninefingers might only have one more fight in him but it's going to be a big one. Battle rages across the North, the king of the Northmen still stands firm, and there's only one man who can stop him. His oldest friend, and his oldest enemy: it's time for the Bloody-Nine to come home.
With too many masters and too little time, Superior Glokta is fighting a different kind of war. A secret struggle in which no one is safe, and no one can be trusted. As his days with a sword are far behind him, it's fortunate that he's deadly with his remaining weapons: blackmail, threats, and torture.
Jezal dan Luthar has decided that winning glory is too painful an undertaking and turned his back on soldiering for a simple life with the woman he loves. But love can be painful too and glory has a nasty habit of creeping up on a man when he least expects it.
The king of the Union lies on his deathbed, the peasants revolt, and the nobles scramble to steal his crown. No one believes that the shadow of war is about to fall across the heart of the Union. Only the First of the Magi can save the world, but there are risks. There is no risk more terrible, than to break the First Law...
Praise For Last Argument of Kings…
"Abercrombie is a fresh new talent, presenting a dark view of life with wit and zest, and readers will mourn the end of this vivid story arc."
--Publishers Weekly

"You should always end with the best... Last Argument of Kings is the textbook example of this theory in practice. The third in Joe Abercrombie's debut fantasy series, The First Law, reveals everything a finale should: conveys some answers, ties together the loose ends from various plot strands, knocks over pieces painstakingly set up in the preceding stories, and in the aftermath delivers the character development that surprises as well as delights. This series was always a swords-and-sorcery sequence that rejected the overwrought Tolkienesque myth building in favor of wry dialogue and tough, interweaving plotlines. Although it's never a comedy, the author's tongue lurks inside his cheek as he re-energizes the fantasy staples. "
—SFX
Pyr, 9781591026907, 639pp.
Publication Date: September 23, 2008
or
Not Currently Available for Direct Purchase