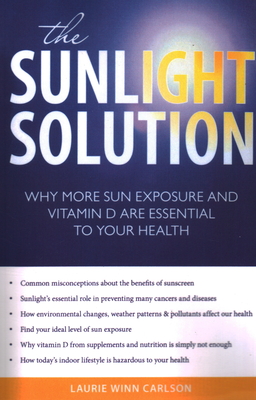 The Sunlight Solution: Why More Sun Exposure and Vitamin D Are Essential to Your Health (Paperback)
Why More Sun Exposure and Vitamin D Are Essential to Your Health
Prometheus Books, 9781591027010, 246pp.
Publication Date: March 24, 2009
* Individual store prices may vary.
or
Not Currently Available for Direct Purchase
Description
Sunlight is a vital component of good health. Like plants that thrive in the sun, we humans too depend on sunlight, in our case for the production of Vitamin D. In the past few decades, however, cultural trends have steered us away from sun exposure. From fear of the potential dangers of UV radiation and the heavy promotion of sunscreen products to artificial work and recreational environments centered on virtual reality, we are all spending much more time indoors and away from the sun. What are the health consequences?
In this informative overview of an often-neglected topic, historian Laurie Winn Carlson examines the historical and cultural factors that have created our indoor lifestyles and the medical evidence that suggests we need to get out in the sun.
She begins by tracing the behavior patterns that have caused a shift indoors. She notes that it was common decades ago for children to spend hours playing outside. Now the lure of video games and heavy sunscreen use have changed all that. Adults, also, live and work in the perpetual twilight of electric lighting. Though we feel comfortable, there is evidence that our bodies have not really adjusted to a lifestyle that is less than a century old.
Carlson explains the growing body of research that challenges government and health industry warnings against the dangers of sunlight. For example, the production of Vitamin D from sun exposure is crucial to maintaining the body's calcium levels, an important factor for healthy bones, especially as we age. There is also evidence of the sun's beneficial effects on psychological disorders such as seasonal depression or difficulty sleeping.
She concludes by arguing for a balanced approach to sun exposure. Although the risk of skin cancers should not be ignored, total avoidance of the sun can be just as risky to our health.
About the Author
Laurie Winn Carlson (Dallas, OR) is an adjunct assistant professor of history at Western Oregon University and the author of twenty books including William J. Spillman and the Birth of Agricultural Economics and A Fever in Salem: A New Interpretation of the New England Witch Trials.
Advertisement