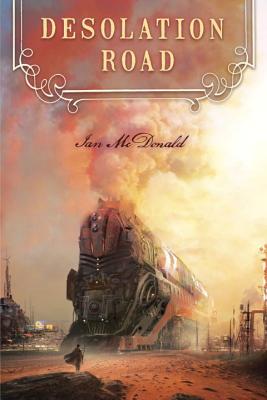 Desolation Road (Paperback)
Pyr, 9781591027447, 365pp.
Publication Date: July 28, 2009
* Individual store prices may vary.
or
Not Currently Available for Direct Purchase
Description
It all began thirty years ago on Mars, with a greenperson. But by the time it all finished, the town of Desolation Road had experienced every conceivable abnormality from Adam Black's Wonderful Travelling Chautauqua and Educational 'Stravaganza (complete with its very own captive angel) to the Astounding Tatterdemalion Air Bazaar. Its inhabitants ranged from Dr. Alimantando, the town's founder and resident genius, to the Babooshka, a barren grandmother who just wants her own child—grown in a fruit jar; from Rajendra Das, mechanical hobo who has a mystical way with machines to the Gallacelli brothers, identical triplets who fell in love with—and married—the same woman.
About the Author
Ian McDonaldis the author ofPlanesrunner, Be My Enemy, andEmpress of the Sun, in the Everness series. He has written thirteen science fiction novels--including the 2011 John W. Campbell Memorial Award winner for Best Novel, The Dervish House--as well asBrasyl, River of Gods, Cyberabad Days, Ares Express, Desolation Road, King of Morning, Queen of Day, Out on Blue Six, Chaga, andKirinya.He's been nominated for every major science fiction award, and even won some. McDonald also works in television and in program development--all those reality shows have to come from somewhere--and has written for screen as well as print. He lives in Northern Ireland, just outside Belfast, and loves to travel."
Advertisement