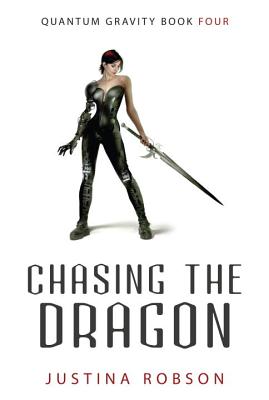 Chasing the Dragon (Quantum Gravity) (Paperback)
Pyr, 9781591027461, 401pp.
Publication Date: August 25, 2009
* Individual store prices may vary.
Description
Ever since the Quantum Bomb of 2015 things have been different; the dimensions have fused and suddenly our world is accessible to elves, demons, ghosts, and elementals—and their worlds are open to us. Things have been different for Special Agent Lila Black too: she's been tortured and magic-scarred by elves; rebuilt by humans into a half-robot, part-AI, nuclear-fueled walking arsenal; married to a demon; and is in love with a recently-deceased elf. It was confusing enough before she was catapulted fifty years into her own future.

Returning to the life of a secret agent, Lila finds herself left all of her former boss's old offices and whatever mysteries they contain, as the elf has disappeared some fifty years previously. Appointed head of the new android division, she can see all too clearly what's in store for her if the growth of the alien technologies in her cyborg body continue unchecked.

But there are more immediate concerns. Like resurrecting her lover, Zal. And her husband, the demon Teazle, is embroiled in a fatal plot in Demonia, and her magic sword is making itself happy as a pen whose writing has the power to affect other worlds. The world is off its rocker and most everyone is terrified of faeries.

And all the while, she hears the voices of the machine—material projections of an immaterial form, The Signal. The Signal talks constantly—if only she knew what it meant.

Chasing the Dragon is bright, fast-moving, and accessible SF that mixes in fantasy and a cool cult-lit sensibility to create a series that will appeal to all fans of Laurrell K. Hamilton and Peter Hamilton alike.
About the Author
Justina Robson is the author of Keeping It Real, Selling Out, and Going Under (Books 1-3 of the Quantum Gravity series). Her first novel, Silver Screen, published in August 1999 in the UK and in 2005 by Pyr, was short-listed for the Arthur C. Clarke Award and the BSFA Award, and was nominated for the Philip K. Dick award. Her second novel, Mappa Mundi, together with Silver Screen, won the Amazon.co.uk Writer's Bursary in 2000 and was also short-listed for the Arthur C. Clarke Award in 2001. A third novel, Natural History, a far-future novel, placed second in the 2004 John W. Campbell Award, was short-listed for the Best Novel of 2003 in the British Science Fiction Association Awards, and was also nominated for the 2006 Philip K. Dick Award, receiving a special citation. A fourth novel, Living Next Door to the God of Love, was a finalist for the BSFA Award.
or
Not Currently Available for Direct Purchase