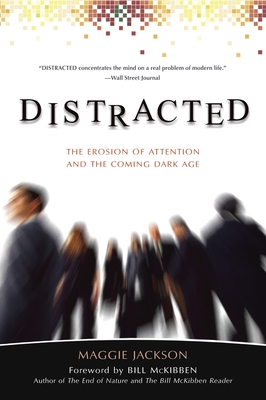 Distracted
The Erosion of Attention and the Coming Dark Age
Paperback

* Individual store prices may vary.
Other Editions of This Title:
Paperback (9/11/2018)
MP3 CD (8/23/2016)
Description
In this gripping exposé of our cyber-centric, attention-deficient life, journalist Maggie Jackson argues that we are eroding our capacity for deep attention and mindfulness — the building blocks of intimacy, wisdom, and cultural progress. The implications for a healthy society are stark.

Despite our wondrous technologies and scientific advances, we are nurturing a culture of diffusion and detachment. With our attention scattered among the beeps and pings of a push-button world, we are less and less able to pause, reflect, and deeply connect.

In her sweeping quest to unravel the nature of attention and detail its losses, Jackson introduces us to scientists, cartographers, marketers, educators, wired teens, and even roboticists. She offers us a compelling wake-up call, an adventure story, and reasons for hope.

As the author shows, neuroscience is just now decoding the workings of attention, with its three pillars of focus, awareness, and judgment, and revealing how these skills can be shaped and taught. This is exciting news for all of us living in an age of overload.

Pull over, hit the pause button, and prepare for an eye-opening journey. More than ever, we cannot afford to let distraction become the marker of our time.
Praise For Distracted: The Erosion of Attention and the Coming Dark Age…
"Prescient when it originally appeared, Distracted is now MORE ESSENTIAL THAN EVER. This new edition deserves your full attention."
 
– Nicholas Carr, author of The Shallows and The Glass Cage
 
"Maggie Jackson has an ear fine-tuned to what is important in the culture—to the trends that matter! She writes beautifully, in a way that commands attention, but when there is poetry in her subject she makes sure that it gets its due. I'm a fan!"
 
—Sherry Turkle, MIT Professor, and author of Reclaiming Conversation and Alone Together
Prometheus Books, 9781591027485, 327pp.
Publication Date: September 22, 2009
About the Author
Maggie Jackson is an award-winning author and journalist who writes the popular "Balancing Acts" column in the Boston Globe. Her work also has appeared in the New York Times and on National Public Radio, among other national publications. Her acclaimed first book, What's Happening to Home? Balancing Work, Life and Refuge in the Information Age, examined the loss of home as a refuge.